I always dig people who not only know how to translate their faith in Christ without watering it down, but who also know how appeal to the masses without being insufferably pushy and religious. People who do not compromise but know how to be all things to all people. These are often creative-types who, like Jesus, have a knack for storytelling to communicate truth in a winsome way.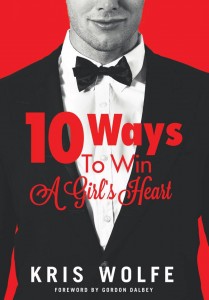 Author and speaker Kris Wolfe is one such gifted storyteller. But more than that, he is a great guy who inspires me to be a better man, and I can count on one hand the number of men about whom I say that. I first connected with him through GoodGuySwag.com, a terrific website he started, and I later got the chance to meet and hang out with him. The confidence with which this man carries himself is just ridiculous and his leadership qualities and communication skills are off-the-charts. Brimming with insight and vision for raising up a generation of virtuous and powerful men, Kris runs a group for men in the entertainment/fitness industries in Los Angeles where he resides with his sweet wife Kristen Dalton-Wolfe (SheIsMore.com is her website).
Although I have yet to encounter any sub-par content on GoodGuySwag, (the website has attracted millions of visitors in just a few years) Kris found that the articles he published which garnered the most traffic were the ones about dating and relationships. His new book, 10 Ways to Win A Girl's Heart, was borne out of one such popular post. He is not just trying to help young men find the gal of their dreams. Kris intends to give wings to a new definition of masculinity and empower these young men as they pursue the hearts of the women they love. It's about time, I say.
Perhaps nowhere is such a new definition of masculinity and a revival of virtue more needed than for today's men, particularly when it comes to how they approach marriage. In an age where males view bedpost notches as the marks of manhood, the ladies among us continue to express their exasperation with the multitude of immature, horny boys walking around in adult bodies. As was noted in the Wall Street Journal in 2011:
Not so long ago, the average American man in his 20s had achieved most of the milestones of adulthood: a high-school diploma, financial independence, marriage and children. Today, most men in their 20s hang out in a novel sort of limbo, a hybrid state of semi-hormonal adolescence and responsible self-reliance. This "pre-adulthood" has much to recommend it, especially for the college-educated. But it's time to state what has become obvious to legions of frustrated young women: It doesn't bring out the best in men.
Where, indeed, have have all the good men gone? They are out there; you may just have to look a little harder. And given the dearth of wholesome role models those good men need encouragement, especially when it comes to finding Mrs. Right. In this book Kris approaches the subject of dating and relationships from an angle too often overlooked: making yourself a better man. With his fearless transparency, Kris shares the stories of meeting and pursuing his wife and what he learned, including some of the mistakes he made.
Lest anyone be tempted to think so, 10 Ways is NOT a list of slick tips to bag the girl for a cheap romp in the sack. It is full of really practical, sound advice to honor and cherish her. Kris devotes significant time to honoring a woman's needs and desires to ensure she feels safe and loved. This is absolutely key to a successful relationship.
Most importantly, he exhorts a generation of men to dispense with that "hangout in limbo" passivity and face down their insecurities. Each chapter celebrates a distinct virtue men need to exhibit in order to become better men and ultimately win the respect of women. You cannot merely modify your behavior to attain these virtues. They have to take root in your heart. With their characteristic intuition women can totally tell when it is not real so there is no point in faking it. Plus, faking virtue is to disrespect your manhood.
Women may have a long list of things they desire in a husband, but the one thing they all want is a man. That ought not be too much to ask. Kris Wolfe has done us all a huge favor by offering us his journey and invites every good guy who desires to find a wife to follow his lead.
Order your copy of 1o Ways To Win A Girls Heart here.
___
Photo credit: Kris Wolfe, designed by Adam Kay.