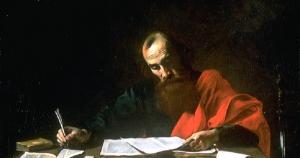 Part of the big debate about Paul is whether he is an actual follower of Jesus, or whether he just comes along and makes up his own religion, based on the cross, resurrection, and deity of Christ. How much could we know about the life and teachings of Jesus if all we had was the letters of Paul? At first glance, it looks like almost nothing. However, if we take a closer look, we can see that Paul is echoing Jesus quite a bit. Here are some examples:
Romans 12:14 – "Bless those who persecute you. Bless and do not curse." (Matthew 5:44)

Romans 12:17 – "Recompense no one evil for evil." + 1 Thessalonians 5:15 – "See that no one render evil for evil to anyone." (Matthew 5:39-42)
Romans 12:21 – "Do not be overcome by evil, but overcome evil with good."
Romans 13:7 – "Render therefore to all their dues: tribute to whom tribute is due, revenue to whom revenue is due, fear to whom fear is due, honor to whom honor is due." (Mark 12:13-17 and parallels)
Romans 13:8-10 – "Owe no one anything, except to love one another, for whoever loves has fulfilled the law. For the (commandments)…are summed up in this saying: You shall love your neighbor as yourself. Love does no wrong to a neighbor; therefore love is the fulfilling of the law." (Mark 12:28-34 and parallels)
Romans 14:10 – "But why do you judge your brother?" (Matthew 7:1, Luke 6:37)
Romans 14:13 – "Let us not therefore judge one another anymore; but let us judge rather not to put a stumbling block or a skandalon in his brother's way." (Matthew 18:7, Mark 9:42, Luke 17:1-2) C. H. Dodd thinks that Paul's use of skandalon here suggests that he got it from Jesus.

Rom 14:14 – "I know and am persuaded by the Lord Jesus that there is nothing unclean in itself." (Mark 7:15, Matthew 15:11)
1 Thessalonians 4:8 – "Whoever rejects this, rejects not man but God." (Luke 10:16)
1 Thessalonians 4:9 – "For you yourselves have been taught by God to love one another." (John 13:34)
1 Thessalonians 5:2 – "The day of the Lord comes in this manner, like a thief in the night." (Luke 12:39, Matthew 24:43)
1 Thessalonians 5:3 – "For when they shall say, Peace and safety, then sudden destruction shall come upon them, like travail upon a woman with child, and they shall not escape." (Luke 12:39-46, 21:34)
1 Thessalonians 5:6 – "Therefore, let us not sleep, as others do, but let us watch and be sober." (Matthew 24:42, Mark 13:37, Luke 21:34 and 36.)
1 Thessalonians 5:13 – "And be at peace among yourselves" (Mark 9:50 – exact words)
Colossians 3:5 – "Put to death therefore what is earthly among your members." (Matthew 5:29-30, Mark 9:43 and 47, Matthew 18:8-9.)
Colossians 3:13 – "Forbearing one another, and forgiving one another, if anyone have a quarrel with anyone." (Parallel in the Lord's Prayer.) Another possible allusion to the Lord's Prayer is Romans 8:15, "whereby we cry Abba, Father!"
Colossians 4:6 – "…that you might know how you ought to answer everyone." (Luke 12:11-12, Matthew 10:19, Mark 13:11, Luke 21:14)
1 Corinthians 7:10 – "Now to the married I command, yet not I but the Lord, Let not the wife depart from her husband." (Mark 10:12)
1 Corinthians 9:14 – "Even so the Lord ordained that those who preach the gospel shall live from the gospel." (Luke 10:7, Matthew 10:10) In 1 Timothy 5:18, Paul gives us a direct quote from Luke 10:7, "The worker is worthy of their pay."
1 Corinthians 11:23-25 – "For I received from the Lord that which I also delivered to you…" Here we have Paul giving us verbatim the key sound bites of the Last Supper.
1 Corinthians 13:2 – "If I have all faith so as to move mountains" (see Matthew 17:20).
Acts 20:35 – "…remembering the words of the Lord Jesus, how he said, It is more blessed to give than to receive." Here we have words of Jesus, quoted by name, that would have been lost entirely if not for Paul.
1 Thessalonians 4:15-17 – "For this we declare to you by the word of the Lord, that we who are live and remain until the coming of the Lord shall not precede those who have fallen asleep." Here is the classic passage on the Rapture. The only word of Jesus I can think of to which Paul is referring is where Jesus predicts that one will be taken and the other left behind at his coming. Paul credits "the Lord" (Jesus) for this teaching.
1 Corinthians 6:9-11 – Could this list of those who practice unrepentant sin who "will not inherit the kingdom of God" come from Jesus? Another "kingdom" saying that may come from Jesus is Romans 14:17, "For the kingdom of God is not food and drink, but righteousness and peace and joy in the Holy Spirit."
Paul's concept of being "crucified with Christ" (Galatians 2:20) may connect with Jesus' command to "take up your cross."
The words "gain" and "loss" appear together in the New Testament only in Jesus' question "What shall it profit?" and in Philippians 3:7-8.
Romans 6:3 – "Do you not know that all of us who have been baptized into Christ Jesus were baptized into his death?" See Luke 12:50: "I have a baptism with which to be baptized." If this is the cross, then by baptism we share in his death.
1 Timothy 2:6 – "Who gave himself a ransom for all" (Matthew 20:28, Mark 10:45)
Jesus' approach to the Sabbath becomes Paul's approach in Romans 14:5-6.
It is obvious that at some point, someone had to fill Paul in on the details of Jesus' life. Some of this could have been done by believers at Damascus. Certainly Paul would have gotten the whole story from the original apostles during his first post-conversion visit to Jerusalem. The unanswered question is: Why doesn't Paul name Jesus as his source more often than he does?
James Dunn's response is that Paul doesn't need to identify the allusions, because insiders already recognize them. The only two teachings of Jesus that Paul quotes by name are cases where he needs to differentiate his own advice from that of Jesus. The loose citations Paul makes that I have collected in this post are to teachings of Jesus which no one disputes.
Paul's audience doesn't need him to tell them the Jesus story – they know it already. Dunn concludes, "And if nothing in the Jesus tradition was at issue, then we should not expect Paul to have written about it."
But Paul doesn't merely echo Jesus. He takes the body of Christian teaching far beyond the life and teachings of Jesus. We would be handicapped if all we had was the so-called "red-letter Bible." Paul is our rabbi who ties it all together and helps us understand all that the life and teaching of Jesus means to us.