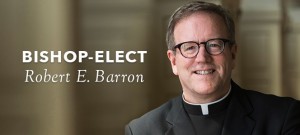 Surprising but exciting news this morning as Pope Francis has appointed Father Robert Barron, of Word on Fire ministries, to become an Auxiliary Bishop of Los Angeles. Those of you who follow this blog closely know the impact that Word on Fire – and Father Barron personally – has had on my growth in the Church.
I wish him well. He is in my prayers as he undertakes this new mission.
Here is the Bishop-elect's full statement:
It was with enormous surprise that I received word of my appointment as auxiliary bishop of Los Angeles, but it is with a humble and joyful heart that I accept it. The Church of Los Angeles—the most populous in the United States—is energetic, diverse, and creative. Over the years, I've visited many times, including multiple trips to the Los Angeles Religious Education Congress in Anaheim; most recently, I was in the Archdiocese for a lecture at Thomas Aquinas College. So though I can't claim to know it well, I have been able to taste and see some of its richness.

The late Francis Cardinal George—the spiritual grandfather of Word on Fire—was a mentor and friend to me. The mission closest to his heart was the evangelization of the culture, bringing Christ to the arenas of media, politics, law, education, the arts, etc. I can't think of a more exciting field for this sort of work than Los Angeles, which is certainly one of the great cultural centers of our time.

Many might be wondering what this means for the important work of Word on Fire. The short answer is that it will certainly continue! Through the ministrations of Fr. Steve Grunow and his extremely gifted staff, we will keep bringing you my regular articles, sermons, videos, and media resources.

We have so many projects in the works, including our new film and study program on God and atheism, titled The Mystery of God, and our beautiful new documentary series CATHOLICISM: The Pivotal Players. Those projects will continue as planned with more to come in the future.

I am grateful to all of you who follow and support Word on Fire, using our content to form yourselves and share the Catholic Faith. I thank God each and every day for you.

It is a blessing for me to work with you to introduce people to Jesus Christ and invite them to share all the gifts he wants his people to enjoy.

Please pray for me as I begin this new adventure under the Lord's providence.
Peace
UPDATE: Much more Here, via Kate O'Hare and here, via Deacon Kandra.
MORE: The Washington Post has the story, with some thoughts from Elizabeth Scalia.
Photo Image Credit: Word on Fire