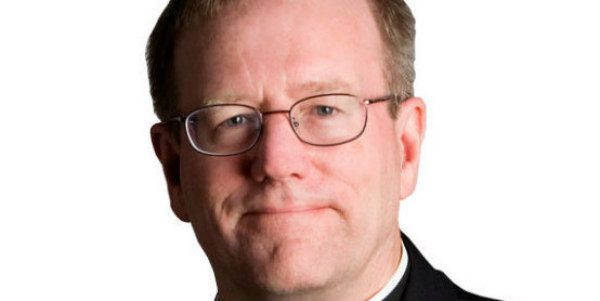 It's such an obviously awesome and appropriate move that one can hardly believe that the Vatican actually did it.
Father Robert Barron, founder of the Word on Fire Catholic Ministries, producer of top-quality video content such as the groundbreaking documentary "Catholicism," for which he was also host, is coming to Hollywood.
Pope Francis has named Barron — along with Monsignor Joseph V. Brennan and Monsignor David G. O'Connell — as auxiliary bishops for the Archdiocese of Los Angeles.
Bishop-Elect Barron will be leaving his post as rector of Mundelein Seminary in Chicago to come to the media hub of the world, and apparently he didn't see it coming.
"It was a complete surprise," he told The Tidings, the newspaper of the L.A. Archdiocese, adding, "I want to be present to the people of the Archdiocese."
That means his duty to his new flock won't take second place to his TV and speaking duties, but it's hard to imagine that his media outreach won't become part of his regular duties.
For a taste of what Barron has been doing, click here for his YouTube channel.
As to his fellow bishops-elect, from the blog Whispers in the Loggia:
In a stunning move, at Roman Noon this Tuesday, the Pope named the 55 year-old rector/president of the Windy City's Mundelein Seminary as one of three auxiliary bishops for the nation's largest local church — the 5 million-member archdiocese of Los Angeles — alongside two of its most well-regarded mainstays: Msgr Joseph Brennan, 61, the career pastor turned lead vicar-general to Archbishop José Gomez, and the Irish-born Msgr David O'Connell, 61, whose decades of ministry in LA's violence-torn South Central corridor arguably comprise the Stateside bench's most potent example yet of the "peripheries" Francis insistently wants present at the church's center.
Barron's media reach is already considerable, as outlined in Aleteia:
Bishop-elect Barron is the founder of Word on Fire, a ministry that uses new media to "draw people into or back to the Catholic Faith," according to its website. The ministry came to the fore in 2011, with a stunning production called "Catholicism," which took the view through the history of the Church in a series of 10 one-hour programs. The series aired on hundreds of PBS stations, reminding some viewers of the 1970s series "Civilization." It was, in fact, Sir Kenneth Clark's BBC series that inspired Bishop Barron to produce "Catholicism," he has said.

Since then, Bishop-Elect Barron and Word on Fire also released the follow-up documentary "Catholicism: The New Evangelization" (2013) and are wrapping up "Catholicsm: The Pivotal Players," a series on the mystics, scholars, artists, and saints who shaped the Church and changed the world. The series is set to debut in Fall 2016.

Bishop-Elect Barron's website, WordOnFire.org, hosts daily blog posts, weekly articles and video commentaries, and an extensive audio archive of over 500 homilies. Bishop-Elect Barron's homilies are heard by tens of thousands of visitors each week. His regular YouTube videos have been viewed over 13 million times, and over 250,000 people receive his daily email reflections during Lent and Advent.
In a statement (via Catholic News Agency, or CNA), Chicago native Barron said:
It was with enormous surprise that I heard the word of my appointment last week, but it is with a humble and joyful heart that I have accepted it.

I am grateful to Pope Francis for his confidence in me and to Archbishop Gomez for his willingness to allow me to minister in this beautiful, richly diverse, and spiritually vibrant Church.
The CNA story continues:
Ordained to the priesthood in 1986 for the archdiocese of Chicago, Fr. Barron said it was his "mentor," the late Cardinal George, who taught him "the central importance of evangelizing the culture, bringing the power of Christ to the arenas of politics, law, the arts, higher education, the media, and entertainment."

"This has been my preoccupation over the years, informing my work as teacher, writer, and evangelist," he said, adding: "I cannot imagine a more exciting field for this sort of endeavor than Los Angeles, one of the great cultural capitals of the world."
Los Angeles Archbishop Jose H. Gomez will hold a press conference today at 10 a.m. (Pacific time) to discuss the news. It can be watched via a livestream broadcast here.
In a statement (via Aleteia), Archbishop Gomez said:
I think it is clear that in appointing these new auxiliary bishops, Pope Francis really understands what the Church needs — not just here in Los Angeles, but also in the United States and across the Americas. I believe each of these new auxiliary bishops will help us in our mission here in the Archdiocese of Los Angeles — the beautiful mission we have of sharing the love of God and the message of Jesus Christ and promoting human dignity and mercy and justice in our society.
It does appear that Pope Francis, while he usually has his eye on other parts of the world, has at least one ear attuned to the needs of American Catholics. With Bishop Fulton Sheen far in the past, and EWTN's Mother Angelica no longer an active force on TV, the Church has been lacking an effective, polished and powerful media personality. The appointment of Bishop-Elect Barron to the L.A. Archdiocese could be a fantastic tool for the New Evangelization.
As one L.A. Catholic friend of mine remarked on hearing the news, "So stoked!"
I second that emotion.
UPDATE: Patheos' Tom Zampino has Barron's full statement here.
Image: Courtesy WordonFire.org
Don't miss a thing: head over to my other home at CatholicVote and like my Facebook page.