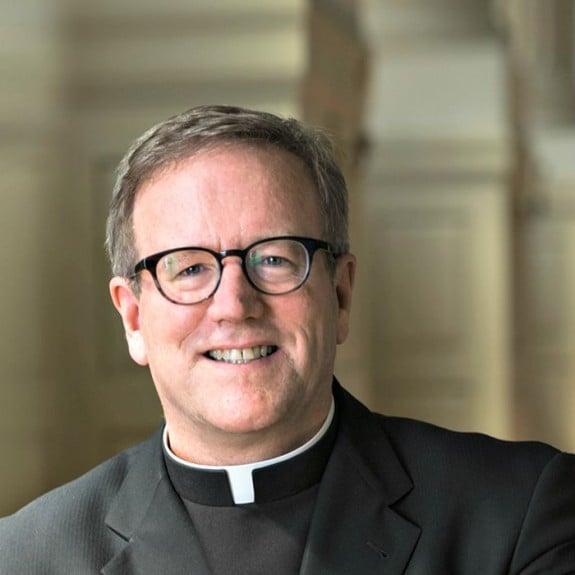 Sensational news in the world of Catholic communications—and, really, for the American church— via Vatican Radio: 
Pope Francis on Tuesday named three new auxiliary bishops to the Archdiocese of Los Angeles in the United States.

Among them was Father Robert E. Barron, the Rector of the University of St. Mary and Mundelein Seminary in Chicago. Father Barron is also the founder of the multimedia "Word on Fire Catholic Ministries", which produces programs which have been broadcast regularly on WGN America, EWTN, Relevant Radio and the Word on Fire YouTube Channel.

Monsignor Joseph V. Brennan, the Vicar General and Moderator of the Curia of the Archdiocese of Los Angeles, was also made an auxiliary bishop.

Irish-born Monsignor David G. O'Connell, pastor of Saint Michael Parish in Los Angeles, was also made an auxiliary bishop.

In addition, Pope Francis accepted the resignation of Los Angeles auxiliary bishop Gerald E. Wilkerson, who reached retirement age.
Fr. Barron, of course, is the closest thing we have to a  Fulton Sheen of the 21st century. His bio: 
Bishop-Elect Barron is a #1 Amazon bestselling author and has published numerous books, essays, and articles on theology and the spiritual life. He has also appeared on several media outlets including NBC, PBS, FOX News, CNN, and EWTN.

Bishop-Elect Barron's website, WordOnFire.org, reaches millions of people each year. His regular YouTube videos have been viewed over 13 million times. Next to Pope Francis, he is the most-followed Catholic leader on social media.

Bishop-Elect Barron's pioneering work in evangelizing through the new media led Francis Cardinal George to describe him as "one of the Church's best messengers." He has keynoted many conferences and events all over the world, and will be delivering the opening keynote talk at the World Meeting of Families (September 2015), which will mark Pope Francis' historic visit to the United States.

In September 2015, Bishop-Elect Barron will release a new film and study program on God and atheism titled The Mystery of God: Who God Is and Why He Matters. His next major film series, CATHOLICISM: The Pivotal Players, is scheduled to debut in Fall 2016.
The bishop-elect released a statement this morning:
It was with enormous surprise that I received word of my appointment as auxiliary bishop of Los Angeles, but it is with a humble and joyful heart that I accept it. The Church of Los Angeles – the most populous in the United States-is energetic, diverse, and creative. Over the years, I've visited many times, including multiple trips to the Los Angeles Religious Education Congress in Anaheim; most recently, I was in the Archdiocese for a lecture at Thomas Aquinas College. So though I can't claim to know it well, I have been able to taste and see some of its richness.

The late Francis Cardinal George – the spiritual grandfather of Word on Fire – was a mentor and friend to me. The mission closest to his heart was the evangelization of the culture, bringing Christ to the arenas of media, politics, law, education, the arts, etc. I can't think of a more exciting field for this sort of work than Los Angeles, which is certainly one of the great cultural centers of our time.

Many might be wondering what this means for the important work of Word on Fire. The short answer is that it will certainly continue! Through the ministrations of Fr. Steve Grunow and his extremely gifted staff, we will keep bringing you my regular articles, sermons, videos, and media resources.

 We have so many new projects in the works, including our new film and study program on God and atheism, titled The Mystery of God, and our beautiful new documentary series CATHOLICISM: The Pivotal Players. Those projects will continue as planned with more to come in the future.

 I am grateful to all of you who follow and support Word on Fire, using our content to form yourselves and share the Catholic Faith. I thank God each and every day for you.

 It is a blessing for me to work with you to introduce people to Jesus Christ and invite them to share all the gifts he wants his people to enjoy.

 Please pray for me as I begin this new adventure under the Lord's providence.
Ad multos annos!
Photo via Word on Fire