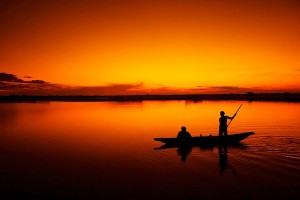 We start off with good intentions.
Whether it's our resolutions for better health in the New Year, our continuing struggles for a better family life, our setting of goals to become more disciplined and productive at work, or even our simple and genuine recommitment to our faith – worthwhile goals, all – the needs are real, the desire for improvement sincere.
Yet some small thing in our path almost always seems to trip us up along the way.
We stumble. We grumble. We retreat.
And it feels nearly impossible – futile, really – to start over again.
We all too quickly label ourselves as "failures."
Our hopes are dashed – yet again.
And worst of all, we're pretty sure that we've failed those we love as well.
It's all so human.
And it's all so unsurprising.
Perhaps we aren't looking closely at what actually lies behind the goals that we've set.
Perhaps we just need to look beyond the achievements hoped for, to slow down, and to begin to appreciate the value in the trying.
Thomas Merton had some choice words of advice for us:
Do not depend on the hope of results.

You may have to face the fact that your work will be apparently worthless and even achieve no result at all, if not perhaps results opposite to what you expect.

As you get used to this idea, you start more and more to concentrate not on the results, but on the value, the rightness, the truth of the work itself.

You gradually struggle less and less for an idea and more and more for specific people.

In the end, it is the reality of personal relationship that saves everything.
Read those words again for they are quite profound:
Concentrate . . . on the value, the rightness, the truth of the work itself
Therein lies your accomplishment. Therein lies your hope. Therein lies your peace.
Peace
Image Credit: Pixabay.com