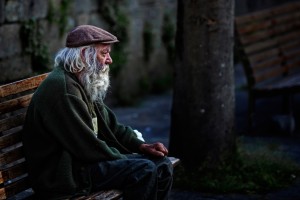 Give and gifts will be given to you; a good measure, packed together, shaken down, and overflowing, will be poured into your lap. For the measure with which you measure will in return be measured out to you – Luke 6:38
We don't give in order to get.
Our faith is neither a business transaction seeking to maximize a profit, nor is it grounded upon some false promise of financial prosperity in exchange for a few good works.
We are simply called, each day, to charity, love, and mercy, even as we are reminded that we should expect in kind – and perhaps no more – only whatever it is that we have measured out to others.
But in this Jubilee Year of Mercy, we are reminded to do even more:
In Misericordiae vultus, Pope Francis emphasizes the need for the Church and all her members to live out the loving mercy that God has for us.

Our response to God's loving mercy towards us is to act in that same way to all those we meet.

The Holy Father reminds us that "Mercy is the very foundation of the Church's life. All of her pastoral activity should be caught up in the tenderness she makes present to believers; nothing in her preaching and in her witness to the world can be lacking in mercy.  The Church's very credibility is seen in how she shows merciful and compassionate love."

As members of the Body and Christ, our lives should reflect this witness of mercy to those we meet on a daily basis [emphasis added].
Since last December, Aleteia has been running a Monday series of very short, very practical exercises and reminders to help guide us through this Year of Mercy: 56 Ways To Be Merciful During The Jubilee Year Of Mercy.
Today marks the 12th in the series – a simple but effective way to help the homeless who cross our paths, especially those in the larger cities, such as New York, where the problem seems to be rapidly escalating. I was delighted to be asked by
Elizabeth Scalia
, Aleteia's Editor-in-Chief (English edition), to contribute to this week's practicing mercy, based upon a suggestion by New York's own Cardinal Timothy Dolan.
The post, The Homeless Are Sometimes Conniving, Abusive, Foul-Mouthed, Annoying, Ungrateful Liars. But That's Not All We Have In Common With Them, reveals one simple, effective step towards mercy – helping just that one person, deserving still of all human dignity and now groveling before us, even as we realize that we may not be able to change the world.
I've written a few other posts here at Patheos concerning the homeless, and I invite you now to take another look at those as well, for example: Whom Do We See In The Homeless?, The Bread Which You Hold Back Belongs To The Hungry, and of course, Douglas-to-Dust.
Let's continue to encourage each other in this Year of Mercy. And let's also show mercy towards each other, especially in our everyday interactions on the internet.
Please don't forget to bookmark Aleteia's series, and then check back every Monday throughout this year for additional exercises.
Peace
Image Courtesy Of Aleteia (via Feans)