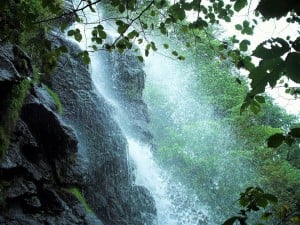 With age comes loss.
It's inescapable and non-negotiable.
The letting go of expectations once set, the loss of love once endless, the decline of health once robust.
But those losses affirm a life evolving – for life empowers change, growth, and a natural leaving behind.
And if we do try to grasp at everything, we risk holding on to nothing.
In our anxiety – in our frenzied recklessness – to accomplish, to keep apace, to do, we relinquish our passions, surrender our hearts, forfeit our serenity.
We displace contemplation to make room for obsessiveness.
We exchange eternal truth for temporal security.
We succeed at failing, because we can't let go.
And if we do somehow manage to grab hold of everything, well that is precisely the moment of our greatest destitution. For that's when we turn away from the very thing that may well perfect us.
So if instead, what if we took one step back, suppressed some of the frenzy, and fought back against some of the absurdity?
What if we were to search, first, for that one thing necessary – that one thing that could change it all?
The one thing that could lead to everything?
Thomas Merton's No Man Is An Island spoke eloquently to our selfish anxiety, and of a simple need to let go, to be real:
One who is content with what he has, and who accepts the fact that he inevitably misses very much in life, is far better off than one who has much more but who worries about all he may be missing.

[T]he relative perfection which we must attain to in this life if we are to live as sons of God is not the twenty-four-hour-a-day production of perfect acts of virtue, but a life from which practically all the obstacles to God's love have been removed or overcome.

One of the chief obstacles to this perfection of selfless charity is the selfish anxiety to get the most out of everything, to be a brilliant success in our own eyes and in the eyes of other men.

We can only get rid of this anxiety by being content to miss something in almost everything we do.

We cannot master everything, taste everything, understand everything, drain every experience to its last dregs.

But if we have the courage to let almost everything else go, we will probably be able to retain the one thing necessary for us – whatever it may be.

If we are too eager to have everything, we will almost certainly miss even the one thing we need.

Happiness consists in finding out precisely what the "one thing necessary" may be, in our lives, and in gladly relinquishing all the rest.

For then, by a divine paradox, we find that everything else is given us together with the one thing we needed.
It will be difficult.
To quell our multi-tasking for even a day now feels strange, uninviting, even eccentric.
And it is especially challenging to begin measuring ourselves against the world without reference to mirrors, or gold, or acclaim.
But I think that it's harder, still, to miss out on what was truly meant for us, but for some forsaken down time or a heart hardened to the things above.
We need to recognize that there is no perfection without vulnerability, nor growth without an exhaustive letting go.
And we can take that first step.
Today might be as good a day as any to start.
Peace
Image Credit: Pixabay.com