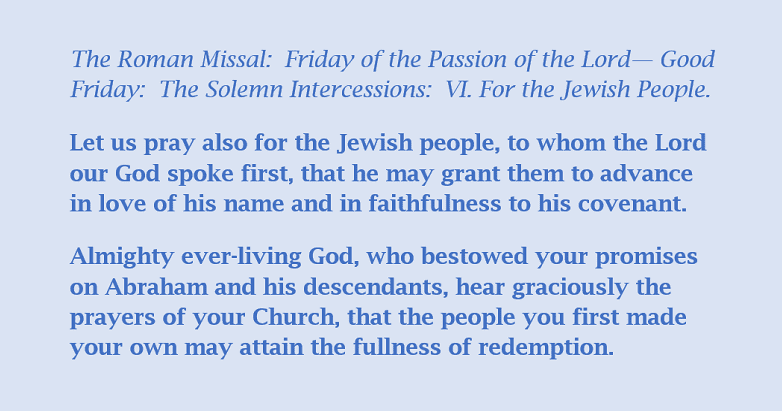 The Roman Missal: Friday of the Passion of the Lord— Good Friday: The Solemn Intercessions:
VI. For the Jewish People.
Let us pray also for the Jewish people, to whom the Lord our God spoke first, that he may grant them to advance in love of his name and in faithfulness to his covenant.
Almighty ever-living God, who bestowed your promises on Abraham and his descendants, hear graciously the prayers of your Church, that the people you first made your own may attain the fullness of redemption.
Through Christ our Lord.
---
For our salvation, the Son of God came down from heaven, and by the Holy Spirit was incarnate of the Virgin Mary, and became man, a Jewish man, a Semite. I cannot fathom antisemitic Christians.
---
Dear Readers of "Turn. Love. Repeat."
California where I reside had a new law go into effect on January 1, 2020. California Assembly Bill 5 forbids freelance writers, editors and photographers from providing more than 35 content submissions to a media organization per year unless the organization hires the freelancer as a salaried employee. Patheos is a media organization, and I am a freelancer. So now I must limit my posts to 35 per year, or 1 post about every 10 days.