"There was also a prophetess, Anna, the daughter of Phanuel, of the tribe of Asher. She was advanced in years, having lived seven years with her husband after her marriage, and then as a widow until she was eighty-four. She never left the temple, but worshiped night and day with fasting and prayer." [Luke 2:36-37]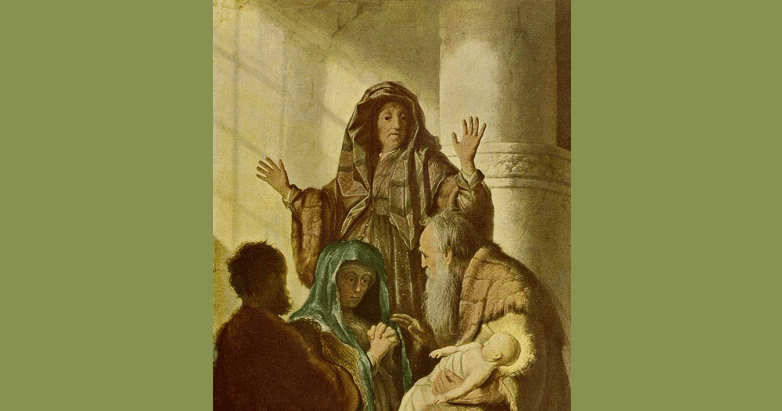 At Mass on this day, December 30, the first reading is
1 John 2:12-17, and the Gospel reading is Luke 2:36-40.
In the Gospel reading for Mass today, the sixth day of Christmas, we witness the first time in history that God the Son personally filled the Temple with his presence both human and divine.
In our own day, he still fills the worshiping Church with his saving presence in his Eucharist and the sound of his Gospel.
Today in his Gospel, we also celebrate Christ through and with the widow and prophetess Anna.
The Church recognizes her as a saint, her feast being on February 3, the day after the Feast of the Presentation of the Lord in the Temple.
Anna had been at the Temple praying, worshiping and fasting for most of her eighty-four years.
The Gospel, with a keen bit of eyewitness detail, bothers to say exactly eighty-four years. With this and other details in the Gospel, we know more of Anna's biography than of any of the first twelve apostles.
The suspense of Anna's many decades of waiting in prayer, worship and fasting found release in meeting Christ.
She was there when Joseph and Mary inserted Christ into the God-given freedom of Israel by redeeming his life from God at the poor man's price of two sacrificial birds, just as God commanded of old.
Anna was there to welcome the eternal Son of the Most High God into the freedom and history of Israel.
That Mysterious Child received Israelite freedom in history through the old rite God had commanded: that of paying the temple priests for the life and freedom of a firstborn Israelite son.
Anna witnessed it, and, as the Gospel says, "she gave thanks to God."
Then, she began to prophesy, telling everyone who was looking for redemption, for freedom, to look to the Holy Child.
What are we to do with freedom?
What does Christ do with his human freedom?
Today's Gospel answers both questions.
"The child grew and became strong, filled with wisdom; and the favor of God was upon him."
In Baptism, the Eucharist and all the sacraments, God makes us his free sons and daughters by taking us into the freedom both human and divine of his eternal Son.
If we use this freedom, we shall grow and become strong, filled with wisdom; and the grace of God will be upon us.
In today's first reading, the Word of the Lord calls us to strength, wisdom and grace.
I am writing to you…
… because your sins have been forgiven for his name's sake.
… because you know him who is from the beginning.
… because you have conquered the Evil One.
… because you know the Father.
… because you are strong and the word of God remains in you.
On this day together with St. Anna, we behold the Divine Child whom St. Joseph and Blessed Mary redeemed, paid for, in the temple.
With all the saints, you and I behold the Eucharistic One in whom sinners can find freedom from sin.
In his Eucharist we know him who is from the beginning.
In him we have conquered the Evil One.
In him we know the Eternal Father.
In his Eucharist we are strong, and he who is God the Word remains in us.
This day let us join Anna in giving thanks to God.
Let us join her in making our lives show Christ to all who look for redemption and freedom.
Holy Prophetess, Saint Anna, pray for us!
---
Dear Readers of "Turn. Love. Repeat."
California where I reside had a new law go into effect on January 1, 2020. California Assembly Bill 5 forbids freelance writers, editors and photographers from providing more than 35 content submissions to a media organization per year unless the organization hires the freelancer as a salaried employee. Patheos is a media organization, and I am a freelancer. So now I must limit my posts to 35 per year, or 1 post about every 10 days. So as not to exceed my limit here at Patheos, I will post my "extra" pieces at my own blog, Monk Notes.