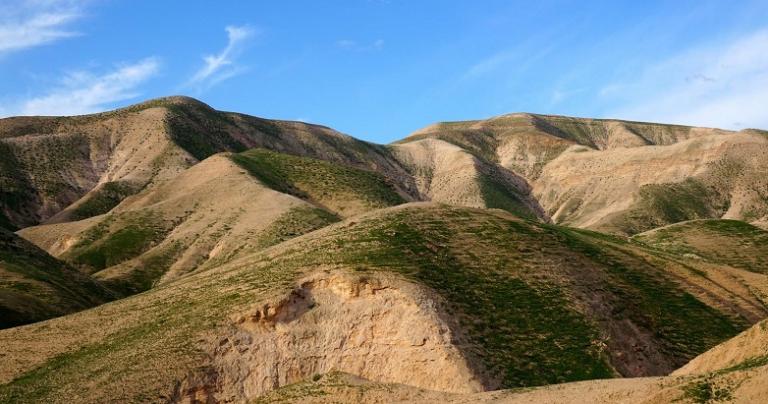 Matthew 14:13-21 for the Eighteenth Sunday in Ordinary Time
John the Baptist, a true prophet, suffered death for speaking the truth against the sins of King Herod.
John also raised the hopes of the people for a messiah, pointing them to Jesus as the Lamb of God who takes away the sins of the world.
Jesus in today's Gospel reading, having heard of John's death, withdrew … to a deserted place by himself.
That is something he often did for the sake of prayer.
We may wonder if his prayerful solitude in today's Gospel reading was in a spirit of mourning the death of a true prophet, his forerunner, his kinsman, even his friend who had called himself the friend of the bridegroom [John 3:29].
The crowds have heard of both John's death and Jesus' withdrawal into solitude.
Having put their messianic hopes in the prophet John and now in Jesus as a prophet as well, they leave their towns on foot and follow Jesus to his solitude.
You and I today at Mass are also a crowd following Jesus.
Today the Gospel tells us that Jesus' heart was moved with pity for them.
However, it is not just any crowd that has moved him, but a crowd following him into solitude.
So, he chose to take care of them.
He cured their sick.
He took loaves that could be counted on one hand, and fish likewise, and turned what was too little into more than enough for about five thousand men, not counting women and children.
The twelve wicker baskets full of leftovers were no accident.
Among other things, they signify that his mission is to care for all the twelve tribes of the People of God.
The twelve baskets too much also show that he is to do far more than fill bellies.
We who have come to follow Jesus must open our eyes and our wills to want far more than have him fill our bellies or meet our other needs.
His way and his timing do not always line up with our hopes.
As we put our own hopes in Jesus, let us mark that he BROKE the too few loaves that were the insufficient hope of the crowd.
He may break our hopes, only to make something much greater come to be.
Let us follow him nonetheless— especially in the solitude of prayer.
Turn. Love. Repeat.
---
Dear Readers of "Turn. Love. Repeat."
California where I reside had a new law go into effect on January 1, 2020. California Assembly Bill 5 forbids freelance writers, editors and photographers from providing more than 34 content submissions to a media organization per year unless the organization hires the freelancer as a salaried employee. Patheos is a media organization, and I am a freelancer. So now I must limit my posts to 34 per year, or 1 post about every 10 days.
So as not to exceed my legal limit, between my postings here at Patheos I will publish my "extra" pieces at my personal blog, Monk Notes.