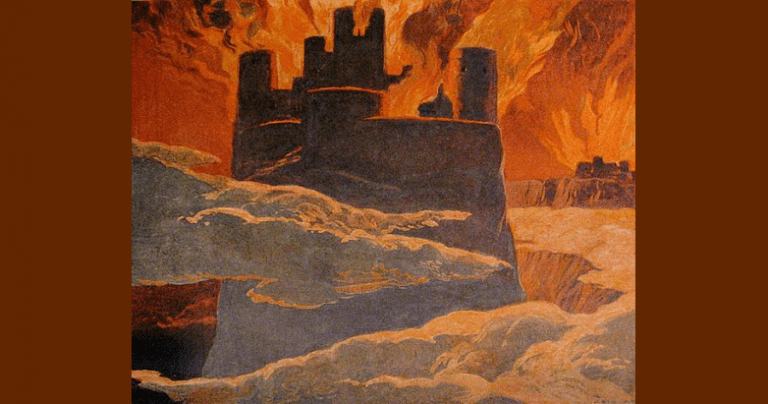 Luke 12:49-53 for Thursday of the Twenty-Ninth Week in Ordinary Time
There is an archaic Latin word, fanum, meaning "temple."
It is the root for another Latin word, fanaticus, "fanatic," describing someone worked up, frenzied or raving in a temple.
When Christ took up a whip to drive the buyers and sellers out of the temple, he was a fanatic down to the very root of the word.
In today's Gospel reading, he spoke like a fanatic.
I have come to set the earth on fire,
and how I wish it were already blazing!
There is a baptism with which I must be baptized,
and how great is my anguish until it is accomplished!
Do you think that I have come to establish peace on the earth?
No, I tell you, but rather division.
He desires fanatically to bathe the world in fire and to have himself baptized in blood.
His suffering and death on the cross bring to the world division, not peace.
Faith in Christ can divide family members from each other
Our faith in Christ puts us at odds with some of the sensitivities, preferences and agendas of the world we live in.
The scandal of our following Christ and his cross is that we must suffer to do so.
It is the scandal that God who is love has become flesh and blood without his erasing suffering and injustice from our world, but throwing himself into the fire of suffering and injustice.
But in that very way he has shown that love has no conditions or limits neither in the spirit nor in the flesh.
He scandalizes us.
Do we believe in him and follow him even if it means we suffer fire and a bloodbath?
Or do we let lesser things than martyrdom scare us away from imitating Christ's fanatical love?
Do we just blend in with the world around us?
Fanatical but sincere and genuine following of Christ will put no limit on the obedience of love.
Merely looking like a fanatic is not the Christian goal.
Nonetheless, the clear and simple practice of ordinary charity and ordinary justice can at times call for deeds and a lifestyle that some might see as fanatical.
Call it fanaticism, or call it zeal: a sincere will to live out our faith in Christ will make for DIVISION between us and many things, ways and persons in the world we inhabit.
However, the hardest part is that the DIVISION must take place WITHIN each of us as well.
That is because we have a tendency to sin.
Through Christ had no tendency to sin, he nonetheless also suffered temptation.
However, he was also driven by the Holy Spirit, and has poured the same Spirit into us.
We, too, have already been baptized in the fire of the Spirit and in the Blood of Christ.
These will bear fruit in us if we freely cooperate.
Our Christian fanaticism must bring forth the virtues, gifts and fruits of the Spirit, which burned in Christ and brought him to a baptism in blood.
Here now in the Body of Christ– AND IN DAILY LIFE— let us also burn.
Here now in the Blood of Christ– AND IN DAILY LIFE— let us also be baptized.
Only so shall we rise to Christ in body and in Spirit.
Turn. Love. Repeat.