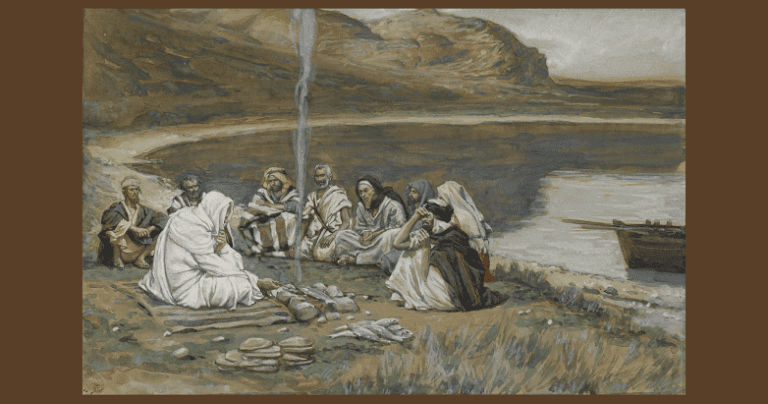 Go to Galilee, and there you will see him.
When an angel threw aside the great stone that had sealed Christ's tomb, Christ was already gone.
With new might in the Spirit, Christ alive bodily in his glory went through the solid stone.
For forty days, those who were already his followers before his death:
saw him,
embraced his feet,
spoke and walked with him,
sat at table with him,
watched him break bread,
saw him vanish into thin air,
saw him appear out of thin air inside a locked room,
watched him take, bite, chew and swallow cooked fish,
stuck their fingers into his open wounds,
watched him tend a lakeside cooking fire to serve them a breakfast of fish and bread— fish and bread for just a few of them alone, and not for thousands as before.
On the fortieth day after he conquered death and the solid stone tomb, they watched him go up bodily into the sky and disappear.
The day he died, so many who did not believe in him saw him:
the priests and Levites,
the Roman procurator Pontius Pilate,
King Herod,
the Sanhedrin— highest court of justice and supreme council of Israel,
Herodians, Pharisees and scribes,
people of Jerusalem and Judea,
pilgrims from Galilee and elsewhere.
But in the forty days, after he rose from the dead, none saw him but those who followed him before he died.
The angel who tore open Christ's empty tomb told the Christians to meet their Lord in Galilee.
Christ himself appeared, and told them the same, to meet him in Galilee.
For forty days he met with his disciples only, far from the center of the nation.
The final months, days, and hours of his earthly life and death had been a national event with international witnesses.
But, his resurrection and glory were secret happenings, and for forty days thereafter he gave himself only to his disciples:
in privacy and intimacy,
sometimes alone on a road,
sometimes behind locked doors,
sometimes far away from Jerusalem,
once on the shores of a countryside lake.
After he went up into the sky on the fortieth day, his followers did his bidding, and spent ten more days in secrecy.
So, until the fiftieth day, the Pentecost— meaning the fiftieth— Christ's followers kept to themselves and kept silent about the resurrection, glory and ascension of Christ.
We too, before we dare to shout to the world from the rooftops, we need first to be alone with the empty tomb and the angelic news.
We need first to listen for the risen Christ calling each of our names when no one else is around.
Before we tell the world, we need to fall in worship at the feet of the risen Christ, and sincerely own up with Mary Magdalene that Christ is our Great One, Rabboni.
We first need the risen Christ to break into our blind dejection on roads leading to no special place, so that he can tell us how we still need to learn his truth.
Before we tell the world, we need first to have the risen Christ break into our hiding places, as he did to his cowering disciples.
We first need the risen Christ to overcome the futility of the work we do in the dark, and tell us in the light of day what to do about our defeated and empty fishing nets.
Before we tell the world, we may need to see a miraculous, overwhelming catch of fish happen because we obeyed the strange commands of the risen Christ whom we failed to recognize.
Throughout all of our private encounters with the risen Christ, we must face our repeated failures to recognize his presence in our midst.
That was the story of the Church for the fifty days after Christ defeated the sealed stone tomb.
The angel tells us to go meet the risen Christ in Galilee.
Christ himself tells us to go meet him in Galilee.
Let us obey him.
Let us each find some sort of Galilee— a place and time far away from the crowded center of attention.
Let us seek to be alone with the risen Lord.
Let us have his resurrection and his presence and the power of his Spirit break our lives in two.
Then we will have honesty and something true to tell the world.
Turn. Love. Repeat.