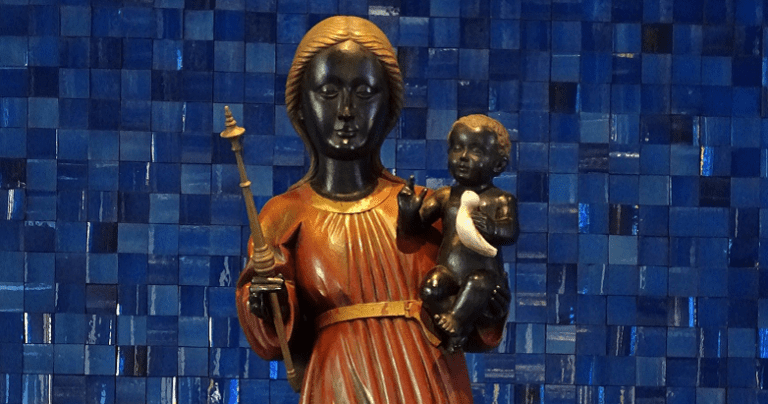 Behold your mother
The disciple who took into his life and home the Lord's mother had borne witness to the Lord's life.
His witness began at the Lord's baptism and lasted into the days of the Lord's resurrection.
Throughout his witness, this disciple took no name other than the disciple whom Jesus loved.
And at the end of his witness, he wrote: This is the disciple who is bearing witness to these things, and who has written these things. [Jn. 21:24]
But you and I are each a disciple whom the Lord loves and whom he wants as witness.
So, this calls us to a lectio divina, a Godly reading that sees our own self in the disciple whom Jesus loved.
We are to see our self as having brought into our life and home the Lord's mother.
Thus, stepping now into the spirit of that reading, let us look back at the written witness and see our own selves in it.
Jesus.
Now and at the hour of his death, what has changed?
What is new for me as his disciple?
And what am I to do?
From his cross he told me only one thing: Behold your mother.
Then, as the Gospel says, from that hour the disciple took her into his home.
So, what is it to have her in my home and my life?
At Cana in Galilee, she was the Gospel's first witness of the misery of man and woman. [Jn. 2:1-11]
Witnessing it, she stepped in.
She already believed in her son.
And now she dared pray boldly to him: They have no wine.
Then she sood with her son's would-be servants, and told them: Do whatever he tells you.
And water became wine!
I saw.
And I believed.
So I wanted to do whatever he told me.
And so I followed him.
But when the soldiers and police took him, we, his handpicked men, ran away.
And we hid.
But his mother strode to his cross.
I crept out of hiding, and stood in her shadow.
When Jesus saw his mother and the disciple whom he loved standing beside her,
he said to his mother,
"Woman, behold your son."
Then he said to the disciple,
"Behold your mother."
And from that hour the disciple took her into his own home.
So, the Lord changed me from runaway disciple into his brother and into son of his mother.
Thereby I was as water that he changed into wine!
The only thing the Lord said to me from his cross: Behold your mother.
That's all.
From his cross, from HIM, from that hour I took HIS mother into MY home and MY life.
I beheld her then: my mother.
And I behold her now: my mother.
At both Cana and Calvary, she stepped in.
At Cana, the Lord yielded to her.
This, the first of his signs, Jesus did at Cana in Galilee,
and manifested his glory;
and his disciples believed in him.
The last of his signs was on Calvary where he changed me into his brother, and said: It is finished. [Jn. 19:30]
Oh Mother of Jesus!
My mother!
Behold me.
I yield to you.
Draw me out of my hiding,
and walk me to his cross.
Stay with me as the sun sets on his cross and all crosses.
Teach me to keep the Holy Sabbath.
Teach me to wait for the glory of Jesus Arisen to break into all the locked rooms where I hide now and at the hour of my death.
Turn. Love. Repeat.