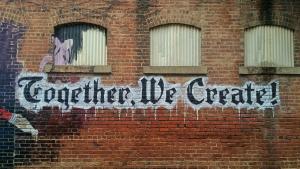 This is part three; read part one here and part two here.
In the first two parts of this series, I talked about the difficulties of finding community and the vital reality of The Priesthood of all believers. I will use the last entry in the series to implore you to find community and live out your creativity.
Christians, Community, and Creativity
Ideally, Christians comprise a community of people who live according to the guidance of the Holy Spirit. They use the Bible to understand God. The Gospels particularly demonstrate who Jesus was, and Jesus represents the ultimate intersection of the physical and spiritual world. But such a community does not have to be monochromatic.
New Creation Communities
The "new creation" community can find a unifying purpose in following Jesus. But anchored by that purpose, people can live out their faith in many ways. For too long, church members have seen ministers as the church's primary creative force. Or people have assumed that being in ministry is defined vocationally. All believers share the calling to carry out the Great Commission.
And the church community needs you! God does not require people but chooses to advance His kingdom through people. And those who still have a heartbeat have an active call on your life. I do not know the people you know or think the way you think. I do not have the skills, interests, or personality that are your gift from God. Followers of Jesus walk on a journey that will involve your unique gifting.
Onward to Creativity
My manifesto for 2023 is to be my best creative self in service to and in honor of Jesus. The modern world and church do their best to keep people in boxes and to make them uniform. Only a few churches I have attended are challenging people to move beyond their passivity. At best,  most people are encouraged to find a place in the existing church programs. Invitations to church and to give resources towards ministry are the low-hanging fruit that most often gets picked. But what if we were made for more?
God made people for so much more. God wants you to unleash your "new creation" gifts. You do this to honor God and bring glory to His name. When you find creative ways to minister to people who do not know God, heaven throws a party. Heaven also celebrates when you find new ways to encourage your brothers and sisters in your church community. Salvation is not a one-time event that occurs, and then you spend the rest of your time waiting to go to Heaven. You live out your "new creation" life daily from now to eternity. 
My 2023 Goal
I have dedicated my next year to being the most creative person I can be. I have set two goals for my year involving creativity. I enjoy writing and talking about God and have gifts in that realm. To utilize these gifts, I have started a podcast. You can listen to it wherever you listen to podcasts. The podcast's title is The Unbroken Ground, and new episodes are released every Sunday. I have agreed with myself that I will produce 52 episodes. Secondly, I have decided to write this blog on the Patheos website. I plan to write for a year and then reevaluate. I want to do all of the above to honor God with my talents, energy, and abilities. 
What will you create?
So now, I turn the challenge to you. What can you do to use your talents and gifts creatively for God's kingdom? You can copy me. God knows we need more uplifting content, so start a podcast or blog. Maybe you should be the best short video content creator. Perhaps you should draw, paint, or sketch and share those creations. Write plays, poems, movies, or stand-up comedy to reach people who would not hear about God in any other way. Bake cookies or make a meal and encourage a fellow believer with tasty food creations. 
A last piece of advice, do not worry about getting everything perfect the first time you do or create something. Everyone has to start somewhere, and do not let the fact that you are a professional stop you. Do something. And then keep doing it. And if your purpose is to glorify God, then just doing it is enough. Put your heart, soul, and strength into it and see how God will multiply your efforts with His power. God has called you, are you ready?
For comments and questions or to request Paul as a speaker or podcast guest: theunbrokenground@gmail.com