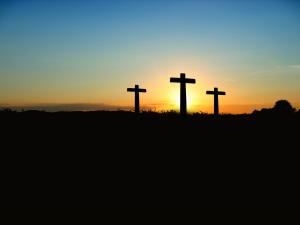 People ask, "why do bad things happen to good people?" But I think a more pressing question is why evil is commonplace today.
Already Done, but Not Yet
Jesus' life, death, and resurrection was the knockout blow against sin and death. He rose from the dead, a conquering King, his kingdom secured and proclaimed. But the world did not seem to get the message. Jesus even anticipated this, telling his disciples, "There will be trouble in this world, but this world has been overcome." Like the spreading of the sun's early rays at dawn, the light of Jesus is dispelling the dark, but not completely. Not yet.
Not long after Jesus returned to heaven, his followers began to be persecuted. Some were crucified, others were burned at the stake, and others were killed by the sword. Yet the persecution had the opposite effect. The church grew rather than shrinking. And followers of Jesus loudly praised his victory and the establishment of the Kingdom of God.
Death and sin had been defeated and no longer held power over those who would trust in Jesus. But the world was not conquered so easily. Darkness held on where it could and continuously lashes out in anger at the loss. And not just bad things happening to good people, but unmistakable evil stalks the earth, sowing chaos wherever possible.
Real Choice
Why does evil have to exist? The simplest explanation is that you cannot have the possibility of love, faith, and hope. If you created a world where people were not capable of truly evil acts, then you would also eliminate the ability for humans to demonstrate actual acts of extravagant love. For God, who desires a real relationship based on love, the risk of the existence of evil was worth it.
Not only did God know that it was worth the risk, but He also experienced the whole spectrum in the form of Jesus. Jesus experienced hunger, loss, and hatred unfiltered and entirely at the mercy of fellow humans. He submitted himself to the torture of being whipped, his flesh torn apart, before being nailed to the cross. He was abandoned by his friends and those closest to Him; even the most loyal cursed His name. Broken, abandoned, and killed, Jesus embraced the fullness of suffering.
God, who sent His only son to the earth, is not ambivalent to the presence and curse of evil. He provided a costly solution, and through Jesus, we see a God who weeps. He weeps at the confusion of the people in Jerusalem. When Lazarus dies, Jesus weeps at the loss of His friend and the hurt felt by the family. Drops of blood poured mixed with sweat from Jesus the night before His crucifixion. God felt the full force of human emotion and loss.
Is it enough that God weeps too?
Is it enough to know that God is not an uncaring, unflinching being who has no understanding of emotion? There is certainly comfort in knowing that God understands our pain, hurt, sorrow, and loss. God doesn't ignore our pain. Instead, He draws near and offers comfort and peace that passes understanding. And for people caught in the vortex of grief and despair, God offers safe harbor. Take your burdens and cares to Him, your complaints, and your hurts too. He will gladly walk with you through the process of grief.
But is that enough in the face of unmistakable evil? Could God have done something to keep evil from happening? Wouldn't that be better than offering comfort in the middle of grief? Honestly, He did do something. He made you. And me. And He created a way for us to be His light bearers to the world's farthest reaches. If you follow Christ, then you are a Kingdom bearer and a Kingdom builder. Your calling is to advance the Kingdom of God wherever you find yourself.
Kingdom Bearer
So, what does this mean? Spend your time and live your life producing the fruit of the Spirit. Fill your life with love, joy, and peace. Refuse to be a part of people and organizations who insist on creating and filling your life with hatred, discord, fits of rage, and selfish ambition. Live in such a way that people see you differently, and then teach the people why you are different. Spend your life focused on patience, kindness, goodness, and faithfulness.
Be a light in your workplace. Find people who are hurting and care for them. Practice acts of kindness and love so that they fill up your days and weeks. Look around your world and think about what Paul says, "If you bite and devour each other, watch out, or you will be destroyed by each other." Think about the media you consume; does it encourage you to further acts of kindness or fill you with anger and bitterness? Think about the conversations you start or participate in; do they bring peace and joy or destroy your peace and steal it?
Do Something About It
Start today; start with that first small step. Plant the seeds that will produce the fruit you want to see. Allow God to work in your heart, and as He does, allow Him to use you to change your household. And then your workplace. And then your city, until you have changed the whole world. We can do nothing apart from God, but He has sent us to be His hands and feet. It is not enough to have thoughts and prayers. We must go and do.
Feel free to follow my Facebook page, The Unbroken Ground | Facebook, for updates and to leave any feedback or questions.