In a 2012 "prediction" carried by CNN, Rev. Samuel Rodriguez, President of the National Hispanic Christian Leadership Conference, claims that evangelicals need at this time "to contextualize an alternative narrative to the polarizing elements from both the right and the left by reconciling the righteousness message of Billy Graham with the justice platform of Dr. Martin Luther King Jr." The president of the nation's largest Hispanic Christian organization goes on to say, "By offering compassionate, truth-filled solutions and focusing on the message of grace, love, reconciliation and healing, evangelicals will demonstrate that the greatest agenda stems neither from the donkey nor the elephant but rather from the lamb." (Citation here.)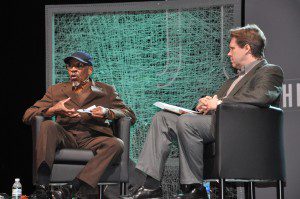 From my experience, no one reconciles better Graham's gospel proclamation message with King's justice platform than Dr. John M. Perkins. I will have the privilege to interview this evangelical Bible teacher and civil rights leader this weekend during his plenary address at The Justice Conference in Portland, Oregon. Co-Founder of the Christian Community Development Association, author of numerous important books on holistic gospel witness and advisor to several U.S. Presidents on poverty and race, John Perkins has synthesized well biblical orthodoxy and orthopraxis. Since his conversion to Christ in 1957, he has sought to bring justification by faith together with the justice of the faithful. His profound message and mentorship have shaped my teaching and writing, includingConnecting Christ: How to Discuss Jesus in a World of Diverse Paths.
In a world deafened by harsh and empty words of partisan politics and religion, Perkins' gospel message lived out among the poor creates space for his evangelical convictions to be heard. I have witnessed how disillusioned and disheartened people have been inspired to take Christ seriously because of Perkins' model witness. As a result, I believe increasingly that the verdict that Jesus is Lord demands evidence in our lives as evangelicals that he is Lord.
Like the Apostle Paul, John Perkins bears the marks of Christ on his body in that the near fatal beating he took at the hands of his white oppressors in Mississippi in 1970 continues to plague his health today. Recovering from recent surgery stemming from problems with the scar tissue from that beating, this lamb is weary. Yet I can assure you that like his Lord, this lamb still can roar the good news of Jesus Christ that mends souls and heals social wounds stemming from hatred and indifference. I look forward to him sharing again what Rev. Rodriguez refers to as the good news of "grace, love, reconciliation and healing."
Perkins' life is still being enriched through his suffering—for God's power is made perfect in weakness. He shared with me recently that without these trials and painful wounds, he might not be as aware of God's mercy. While lying on his back with tubes going everywhere in his body after the surgery, he has looked to heaven and experienced all the more God's saving grace everywhere in his life.
Dr. Perkins lives with a sense of urgency. He may not live much longer, but you and I just might. We have the opportunity to bear with our bodies and our words the same message of reconciliation with God and our fellow humans that John Perkins has carried for so long. Let's make sure that we don't treat this novel prophet as a novelty. Let's make sure we follow his example as he follows the example of our Lord Jesus, who is the reconciling, life-giving lamb and all-powerful, just lion.
This piece is cross-posted at The Institute for the Theology of Culture: New Wine, New Wineskins and at The Christian Post.