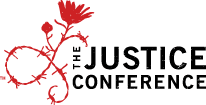 The Justice Conference took place in Portland, Oregon February 24th and 25th. Over four thousand people gathered together to take to heart the call to bear holistic gospel witness to Christ by serving those most in need. Francis Chan's concluding talk on Saturday evening on sacrificial living was prophetically powerful and radically refreshing. It was so radical that it was biblically normal. His words reminded me of what a friend once told me: I long for the day when what is considered normal Christianity (complacent and lukewarm) is viewed as abnormal, and what is abnormal (a life on fire for Jesus) is viewed as normal. Normal Christianity as Chan frames it involves the poor in spirit giving their resources to the poor. I loved how he challenged those who take texts out of context as a pretext for not obeying Jesus' words about the poor. God, free me from my own pretexts that keep me from taking the biblical text to heart!
One of the points Chan made in his talk centered on foster children. Two of his heroes are a Christian couple who have taken to heart the Bible's claim that true religion involves caring for orphans and widows in their distress (James 1:27). As a result, they have adopted numerous foster children. Friends of mine, David and Krys Springer, are starting a ministry that networks foster parents and encourages adoption of foster children. Chan's friends and the Springers are part of a growing movement of abnormal Christians who are taking the biblical text in context and reaching out to foster children—often precious orphans in distress.
While not every Christian will necessarily be led by God to adopt children, we are all called to lay down our lives for our God who is just and who cares deeply for his people to care for the marginalized. What will sustain such a justice movement as this? Discipleship. I asked Dr. Perkins during my interview of him at The Justice Conference what he saw as the most pressing justice concerns that Christians must address in our contemporary social setting. He responded in the singular—discipleship. His response was so unexpected. One would have imagined that he would say something about poverty, racism, or violence. In a sense, he addressed all three by focusing on discipleship.
We have too many abandoned foster Christians running around: people who have been born again and then left to care for themselves without effective parenting. As a result, they seldom care for others, but hold to prosperity gospel teaching that involves getting what they want at the least cost to themselves for their supreme happiness in the moment, failing to think of laying up relational treasures for their eternal reward. We need to do all that Jesus taught us and to teach others to do the same, as he instructed his disciples in Matthew 28:18-20. Otherwise, we turn the great commission into the great escape. Effective discipleship training—Christian parenting—is critically important if we are going to sustain this justice movement.
I was interviewed this week by a leading Unitarian-Universalist minister who has often challenged conservative Christians to care about the poor. We have discussed this subject in various venues, including the forthcoming Connecting Christ: How to Discuss Jesus in a World of Diverse Paths. There I write that Jesus' followers are poor in spirit (in view of Matthew 5:3) and care for the poor (in view of such texts as Luke 6:20 and 12:33). We need to be internally transformed and care for people's internal and external needs. Conservatives have often tended to focus on the former and liberals on the latter needs: both concerns are biblical. If we are to be disciples of the whole Jesus, we need to take seriously Jesus' whole teaching and disciple others to do the same. Only then will there be no foster Christians. Only then will we foster the kind of justice movement that truly cares for the foster children orphans in their distress.
This piece is cross-posted at The Institute for the Theology of Culture: New Wine, New Wineskins and at The Christian Post.