This piece was originally published at The Christian Post on November 22, 2012.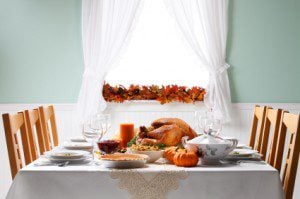 What are you and I most thankful for this Thanksgiving? A full stomach? A full listing of sporting events to watch? A full house of family-friendly noise? Certainly not a sink or life full of dirty dishes! If we were to ask the Apostle Paul what he is thankful for this or any day, I believe he would say he is thankful for God in Christ, who has cleansed and washed him clean of all his dirt and darkness, and thankful for those who have also experienced this divine cleansing action. In Colossians 1, Paul writes in this vein when he says to the Colossian believers in Christ that he gives "joyful thanks to the Father, who has qualified you to share in the inheritance of his holy people in the kingdom of light. For he has rescued us from the dominion of darkness and brought us into the kingdom of the Son he loves, in whom we have redemption, the forgiveness of sins" (Colossians 1:12-14).
I have been meditating on Colossians this Thanksgiving, and have been struck by Paul's focused attention on the fullness of Christ and fullness of life in Christ: "For in Christ all the fullness of the Deity lives in bodily form, and in Christ you have been brought to fullness. He is the head over every power and authority" (Colossians 2:9-10). In the Colossian context, there were false teachers who were claiming just the opposite about Christ, namely that he was not God in the flesh. Now if Christ is only half full of deity, we have to make up for the missing half. A half empty cup of deity leads to half empty lives. No wonder the Colossian Christians were struggling with trying to perform well, getting consumed with certain do's and don'ts rather than being clothed in Christ (Colossians 2:16-23; 3:1-17). But since, as Paul argues, there is no lack in Christ for which we need to make up, we don't have to perform well to experience Christ's grace but can participate in his life and live godly lives in view of his gracious love (Colossians 3:1-17).
Christ is the fullness of deity in bodily form. We have been given fullness in him (Colossians 2:9-10). Christ is the fullness of deity. There is no lack in Christ for which we need to make up. When this reality grips us, it will lead us to live lives of gratitude, and not simply on Thanksgiving. How grateful are we for him, regardless of our circumstances? Regardless of whether we get our fair share of stuffing, pickles, jams and yams this day, are we vitally aware of how great a share we have of him—all his fullness? Paul realized the fullness of life in Christ and that is why he could say in closing, "Remember my chains. Grace be with you" (Colossians 4:18). Paul wrote these words from a prison cell in Rome. But instead of demanding grace from the Colossians because of his needy condition, Paul could and did extend grace to those outside his cell in view of Christ's bountiful provision of his life lived out in Paul (in fact, Paul opened his letter in this way in Colossians 1:2-3). So often, I am locked in a prison cell inside my soul, as I do not experience God's gracious fullness, even though it is there for the receiving, if I would only open my heart and receive God's grace with thanksgiving. A thankless individual and a thankless people are enslaved no matter how free they seem and no matter how many things they have to which they cling.
Christ is the fullness of deity in bodily form in human history. He did not hide his grace, but brought it out into the open for all to experience, no matter their age or stage or position in life. There is no such thing as a secret society for some presumed spiritually elite group of people. In the Colossian context, those who did not view Christ as the fullness of deity in bodily form were fixated with seemingly secret knowledge and wisdom that could only be had by the supposedly spiritually elite. A disembodied Christ leads to a disembodied, privatized, secretive faith. How wrong they were about Christ! Christ is the fullness of deity in bodily form. While all the treasures of wisdom and knowledge are hidden in him, he is the mystery of God revealed on center stage in human history through the public spectacle of his embodied victory (over all oppressive authorities that weigh down on people through enslaving them to guilt and ingratitude, among other things) through the cross and resurrection (Colossians 2:3, 10, 14-15). We all have equal access to Christ's wisdom and knowledge through faith in him. We need to make sure we are welcoming all others to Christ so that they can experience his fullness, too. How inviting are we in our outreach toward others on Thanksgiving or any other day? Do we invite into our lives only those we deem the elect, our bestest of friends, and the nucleus of our favorite nuclear family members? Do we extend grace or demand it from others? In view of Christ's fullness in our lives, if we are really full of Christ, that is, we will share of his bounty with others. Gratitude leads to giving. An ungrateful heart can never get enough, and will try and take away the joy of others. Are we extending grace to others or seeking to take it away from them?
According to Paul, those who have received the loving Christ into their lives by faith have been given fullness in him. In view of this reality, we need to move beyond performance-based spirituality to participation-based spirituality that is bound up with this gift. With this in mind, we need to make sure we are taking the weights off people through Christ so that they can come to experience the fullness of loving freedom in him. Are we putting weights on people that they must lift before they can experience what it's like for Christ to carry them? If so, they will not live grateful Christian lives, only guilt-based ones. A friend of mine who had failed to live into the fullness of faith in Christ tried to keep his closest friends from him. He believed that by sharing more of his dirty dishes and laundry with them, the more they would be repulsed and finally abandon him. But given that they had experienced Christ's grace in their own lives, they extended it to him. Christ's love for him through them clothed him, covering his nakedness exposed as he was through his misdeeds. Through the outpouring of Christ's grace through others, he has returned to experience the fullness of life in Christ and is once again extending Christ's grace to others. He is no longer bearing the weight of his past, for Christ is bearing it for him so that he can gratefully extend Christ's grace to others in the present.
This Thanksgiving, are you in the prison cell of your dining room or family room, taking in food and football and family in the hope that something will fill your ungrateful need? Are you bitter because you have so little while those around you have so much? Your day does not need to end this way. Take it from Paul who likely didn't have much food, family or fun in his prison cell, but he did have Christ and he extended it to those around him who may have had so much more than he did by way of this world's bounty but who desperately needed what he could share with them of Christ's world of boundless grace. May Christ's boundless grace be with you and in gratitude for him, extend his grace to others. As you do so, your thanksgiving will increase. Today, I give thanks for you through Christ. May you experience his grace and extend it to others in increasing measure.