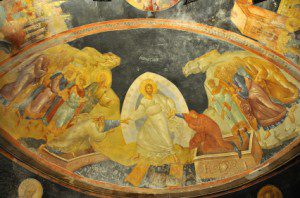 Many Christians today are getting involved in various justice initiatives as they take to heart Jesus' life and love that has transformed individual lives and entire communities ever since his first advent. I am excited about their passion for holistic and equitable compassion. I only hope that they will finish well the race that they have begun. It won't be easy. "Justice" often appears sexy to people at first. But the injustices that we must confront are by no means sexy or funny or exhilarating. Those of us who enter the justice race in view of Jesus will find ourselves challenged and weighed down at times and wonder how in the world will we be able to bear the world's burdens for much longer. Burnout may very well occur as a result, possibly even despair.
So, how is a justice movement sustained? I am speaking here to those who have been inspired first and foremost by Jesus and his example to pursue justice. First and foremost, a justice movement is sustained by knowing that Jesus alone can and will sustain it. Apart from him, we can do nothing (John 15:5). My particular Christian convictions in view of the Bible lead me to argue that Jesus is not simply the catalyst but also the ultimate embodiment of justice; no one has more of a burden for justice than Jesus does, as he bleeds justice through every pore of his being as our just judge and God's reconciling force of holy love. Jesus must be more than a role model. He must be the source and substance of our just endeavors, for he is justice.
Take for example Luke 4:16-21. As the Lord says, the word of Isaiah is fulfilled in his person, as the Spirit of the Lord is upon him. It was such a staggering claim for a hometown boy to tell his neighbors in the local synagogue at the outset of his public ministry (before he had performed any great feat!) that he was the Messiah and that the Messianic age had dawned in his person (the Spirit's special presence coupled with the inauguration of the ultimate year of Jubilee with all that it entailed for such matters as cancelling debts, freeing prisoners, healing and restoring people to equitable relations in his person is why I claim that he is declaring himself to be Israel's long-awaited Messiah). Here is what Luke 4:16-21 says:
He went to Nazareth, where he had been brought up, and on the Sabbath day he went into the synagogue, as was his custom. He stood up to read, and the scroll of the prophet Isaiah was handed to him. Unrolling it, he found the place where it is written:

"The Spirit of the Lord is on me,
because he has anointed me
to proclaim good news to the poor.
He has sent me to proclaim freedom for the prisoners
and recovery of sight for the blind,
to set the oppressed free,
to proclaim the year of the Lord's favor."

Then he rolled up the scroll, gave it back to the attendant and sat down. The eyes of everyone in the synagogue were fastened on him. He began by saying to them, "Today this scripture is fulfilled in your hearing."
This teaching was fulfilled in their hearing there in that synagogue in Nazareth over two thousand years ago; it is still fulfilled to this day. While we who are his followers certainly have an important role to play in Jesus' justice movement, we must come to see that our role is participatory, not a replacement of Jesus or even an extension; Jesus continues his incarnational ministry in and through his people (Acts 1:1-2; see my article on incarnational ministry). We participate in Jesus' just life and experience his passion as he moves the world forward toward the realization of justice throughout our world in view of his kingdom that will never end and that will surely come in its fullness.
I often tell people in such a discussion as this that Jesus has been to Mordor and back again. As you watch The Hobbit this Christmas season and possibly go back and watch The Lord of the Rings trilogy, perhaps you will consider themes in those tales that resonate with the Gospels in various ways. Jesus has borne the ring of oppressive power to Mordor and cast it in the fires of Mount Doom. This very Jesus has very big shoulders on which to bear us. He can carry the load and confront injustice head on. We must hold tightly to him. The bigger our view of Jesus the greater the possibility that we will be able to run the marathon race of justice as we bear witness to his victory in conquering the forces that destroy humanity and the whole cosmos, not simply the fictional world of Middle Earth. We now live in light of what will be as the same Jesus who triumphed over the oppressive rule of the grave will triumph over the other forces of evil such as racism and poverty and violence. While these forces bring death in the short term, Jesus will realize his kingdom rule of life and shalom throughout the world. Don't try to replace him. Rather, bear witness to Jesus—for Jesus is Victor!
This is the first of several posts addressing the subject of how to sustain Jesus' justice movement.