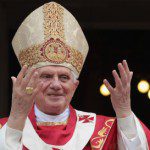 Some will say that Pope Benedict XVI's decision to step down symbolized his incompetence and failure to lead the Roman Catholic Church forward through tumultuous times. Others such as myself find it an act of great competence that he chose to step down at this time because of his failing health. While it might remove some of the aura of seeming invincibility from around the Papacy, the aura of humility might very well take its place. A willingness to acknowledge one's limitations and call for someone else to step in and take the reins in this case signifies that this pope has the best interests of his church and community at large in mind and is willing to acknowledge his frailties and weaknesses in his current state.
The Pope is certainly not incompetent intellectually or theologically. He is one of the brightest theologians around. Of course, he did face numerous challenges as Pope. Perhaps no challenge was more difficult than having to address the overwhelming numbers of scandals coming to the surface involving Catholic priests molesting children. While a full accounting remains, nonetheless he did tackle the issue head on. As a Wall Street Journal article notes,
Despite the church's dismal record of covering up child abuse by priests, and recent questions about the future pontiff's opposition to defrocking one such priest in 1985, Benedict was the first pope to both recognize the damage of this procession of scandals and to apologize for them, meeting with victims and introducing new procedures. This was hardly enough to satisfy the need for a full accounting, but it was an important first step nonetheless.
Evangelicals would be wise to learn from the Catholic Church and not pop off with criticisms about its struggles. After all, we have had our own share of scandals over the years, involving leading representatives of the movement such as Ted Haggard, among others. Humility, transparency, active repentance and accountability go a long way to safeguard against future abuses being committed, whether we are Catholics, Protestant Evangelicals, or others.
This past semester, a Roman Catholic priest spoke to my class on parish ministry. He was a shining example of what a parish minister should be about. A vibrant love for Jesus and his community and my class marks this shepherd of souls. My students, while perhaps originally wary based on doctrinal differences between Catholics and Evangelicals, warmed quickly to him. Not only were we blessed by his love, but also we were pained by what he shared about being spit upon in the street at times for being a priest. It is almost as if his collar that associates him with the church makes some people view him as nothing more than a dog. Whether or not my students will ever wear clerical collars, they share with this priest a passion for Christ and his cross. Whether accurate or not at every turn, they also sense that together we are facing greater opposition as Christians in our society than ever before. No matter how you slice the theology and the suffering, there is a lot more that we share in common with Catholics than there is that separate us—both the good and the bad.
We will all need to discern how to learn from our failures and to build on our strengths. There is strength in numbers, especially where that strength is focused upon cultivating a theology of life that concerns itself with protecting the most vulnerable, whether they are the poor, women and fetuses under duress, children, or those facing religious persecution, whatever their faith tradition, including our own. Such strength will need to be harnessed by humility, transparency, active repentance, and accountability. Otherwise, we will find once again how true it often is that power corrupts.
Evangelicals have no time to pop off on the Pope and Catholic Church. With the Catholic Church, we will need to lead and serve not from a love of power, but from the power of love. For as this pope so eloquently expounded upon theologically, God is love.