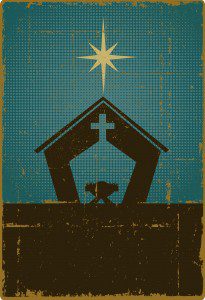 One of the reasons why many of us love Christmas so is because there is magic in the air. We just can't get enough of it. Some of us would like to celebrate Christmas all year round. Businesses promote it earlier and earlier in many places, long before Black Friday and Cyber Monday. Still, others of us fear that celebrating Christmas all year round would get old; the magic of Christmas would wear off in August and perhaps never return in time for Christmas Eve.
Some people may have the same view of justice: it gets old after a while, if we keep emphasizing it. But for those who live under unjust conditions, talking about justice never gets old—it's their only hope, for injustice is very old, yet resilient. They need to be comforted by the reality that justice is ever new and even more resilient. So, how do we cherish the mystery of advent so that its celebration of just peace lasts all year long?
We must guard against wrapping Jesus up as a consumer product or as a justice package. Easier said than done. We all fall prey to reducing and shrinking Jesus rather than embracing his mystery. How tragic. After all, as the old saying goes, for Christians, Jesus is the reason for the season. But even that line sounds so stale and uninteresting to me. At the end of the day, we can never exhaustively define Jesus; we can only continue on the path of trying to describe him. Even so, we must remain silent much of the time as we reflect upon him in view of the Gospels: Jesus is God's revealed mystery.
The more energized I am by Jesus' presence the more mysterious Christmas is to me, as is justice, since Jesus  is just—the prince of peace.  Embrace his mystery.
I am excited that The Justice Conference Portland will be hosted by New Wine @ Multnomah U. This event is a great opportunity to engage justice themes such as those I've raised here. I hope you'll join us on February 21+22 for The Justice Conference Portland.
This piece is cross-posted at The Christian Post.