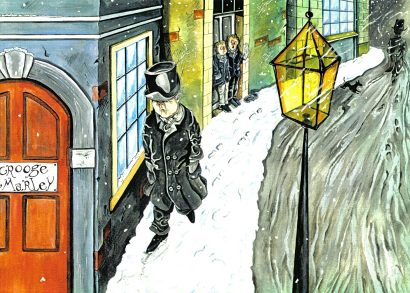 What makes Charles Dickens' A Christmas Carol a classic?
For one, it's written so well. After all, it's one of Dickens' own creations.
For another, Dickens conjures up an ideal setting for his tale—London at Christmas time in Victorian England.
Other reasons include people's fascination with mystery and ghost stories and the enduring appeal of accounts about second chances.
Ebenezer Scrooge's inner transformation from fixation on things and penny-pinching ways to the celebration of people and generosity moves us. Isn't there a little Scrooge inside each one of us, struggling and longing to break free from materialism's grip on our souls and imaginations?
We went to see A Christmas Carol the other night at Portland Playhouse with our friends, Brad and Robin Harper. Their oldest son, Drew, played Scrooge. He and the rest of the cast brought the old tale to life through their creative exploration and adaptation of the play. The Portland Monthly observed, "… the theater dives gloriously into the Christmas spirit for a show that's anything but trite." The way in which the cast rendered the tale illumined our hearts and minds. The intimate setting of the small theater (an old church) added to the mysterious ambiance and created a sense of full participation. Members of the audience may have felt that all of us gathered there were in the play. Indeed, we were. In fact, all of us are: the story takes place in each of our lives to varying degrees over the course of time.
Do you wish you could call upon the Ghost of Christmas Present, "Give me some shadow of my future self!" as Scrooge cried out in the play? Do you wish the ghost would show you a glimpse of your future? Would you like what you see? Would I? What will we be known for—Scrooge's long-standing miserly ways or his eventual revelry in the spirit of generosity? Haunting questions for all of us. Such themes and questions never get old, no matter how old I get. That's why Dickens' story is such a classic tale to me.
This piece is cross-posted at The Christian Post.