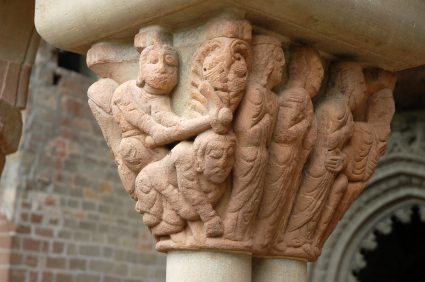 In East of Eden, John Steinbeck brought home the biblical story of Cain and Abel to Salinas, California, where he grew up. Do you bring home this cosmic story to your life by recounting and overcoming it? Whether or not you and I tell the story, we live it every day. Jealousy, rejection, abandonment, revenge, forgiveness, and hope.
Cain felt that God had rejected him and his offering for his brother and his gift. In a fit of jealousy and rage, Cain killed Abel. He left the presence of the Lord and settled east of Eden.
In Steinbeck's East of Eden situated in and around Salinas, we encounter a man named Adam, who has two sons, Cal and Aron. Adam Trask's son Cal is responsible in part for his brother Aron's death. His pain over his father's rejection of his gift in favor of his brother led him to seek to harm his brother (the same kind of favoritism and rejection were present in Adam Trask's home when he was a boy). Cal exposed Aron to a dark family secret: their mother Cathy, who is hard and cold and who abandoned the family after the boys were born and who makes her living running a house of prostitution. This revelation overwhelmed the innocent Aron and led him to make choices that resulted in his death (enlisting in the military and going off to fight in WW1 where he died).
Adam Trask is undone by the tragedy of Aron's death. Paralyzed by a deadly stroke, he lies in bed. His Chinese servant Lee, who helped him raise the boys, seeks to reconcile Adam and his son Cal before Adam dies. At his bedside, Adam utters one word to Cal—the Hebrew word timshel. It is a word that God uttered to Cain as he wrestled with the temptation to sin against God and his brother. In East of Eden, it is interpreted as "Thou mayest" overcome sin. Even now, there is hope for Cal. Cal can change. He is not doomed to be evil like his mother, Cathy. He can live a new life. His father extends grace to him to free him with this word of hope. His father also changes in that he moves beyond a historic cycle of family favoritism to one of grace.
All of us are from Salinas, California, where Steinbeck was from. In other words, none of us live in a pristine garden. We all live east of Eden. But we don't have to live as victims of our fallen state and societal environment or fractured family histories and personal cycles of dysfunction. We may overcome our acts of violence, rejection, haunting memories, and abandonment from the past. We can offer words of hope and live lives of grace toward others, just as God spared Cain from a similar fate to Abel's east of Eden, as we bring the cosmic story home.
This piece is cross-posted at The Christian Post.