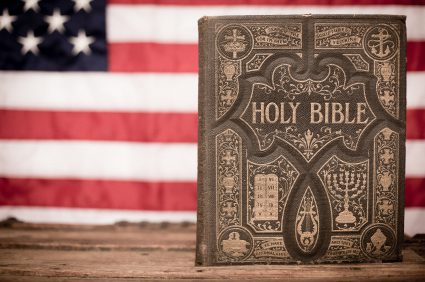 "Christian America" is that form of American Christianity that operates by way of seeking to show the importance of Christianity for culture at large in terms of its strength, sustainable solutions and resilience to gain and maintain control. But is this the way God in Christ always or even chiefly operates?
Perhaps we can learn from Dietrich Bonhoeffer's approach to German Christianity and the surrounding culture in the mid-twentieth century. Bonhoeffer wrote about being dead to the "God of the gaps" kind of Christianity. "God of the gaps" Christianity seeks to present Christianity as playing a strong savior role whereby it fills the gaps and provides the missing links for all of society's questions and concerns. This entails the view of God riding into town and miraculously saving the day (deus ex machina). On this view, God delivers his people from their (and his) enemies—in Bonhoeffer's case, the Nazis. In contrast, in Letters and Papers from Prison, Bonhoeffer writes that God allows us to push him out of the world and onto the cross. For Bonhoeffer, at this stage in his journey, God is weak and powerless in the world. For Bonhoeffer, "man's religiosity makes him look in his distress to the power of God in the world: God is the deus ex machina. The Bible directs man to God's powerlessness and suffering; only the suffering God can help."[1]
For readers who don't know it, Bonhoeffer's story is what really makes the God-in the-gallows lesson come live. In Bonhoeffer's experience as a staunchly active opponent to Hitler, he did not witness God delivering the Christian community or society at large from the Nazi menace. He was eventually executed by hanging for his opposition to Nazism (shortly before the Allies liberated Germany). Prior to his execution, Bonhoeffer came to the understanding that God wants us to grow up and not look for him to save us from all suffering and give us our best lives now. Bonhoeffer claimed that God identifies with us in our suffering and weakness through his work on the cross.[2]
What happens if God does not return America to what many Christians take to be its Christian roots? What if God does not deliver American Christianity from its enemies, secular or otherwise? Will the church take comfort in its present sufferings in powerlessness through identification with Christ in his weakness on the cross?
The church in North America must continue to move beyond Christian America ways. Over against a nostalgic and melancholic return to Christendom by way of seeking to make space for God in society by taking America back for God (God of the gaps), the church moves forward through union with God's missions of Son and Spirit for the transformation of society in cruciform witness. Rather than seeking to gain or regain rights and power, the church on this view gains significance as it suffers redemptively in service to God and its enemies (God in the gallows).
What might cruciform Christian witness look like in your context and from your vantage point?
This piece is cross-posted at The Christian Post.
Related reading: I Can't Wait for Christian America to Die
---
[1] Dietrich Bonhoeffer, Letters and Papers from Prison, ed. Eberhard Bethge, rev. ed. (New York: Macmillan, 1967), p. 188.
[2] Still, I don't think Bonhoeffer ever lost sight of the eschatological hope that was his in Christ. As the Nazis came to take him away for his execution, Bonhoeffer told one of his fellow prisoners: "This is the end. . . For me the beginning of life" (Ibid., xxiii).