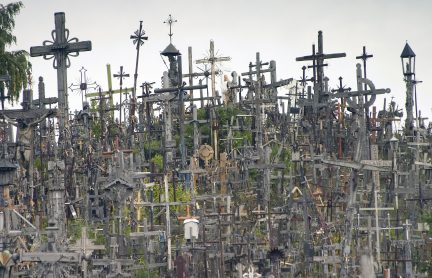 Conservatives and liberals have often debated whether Jesus is the substitute for our sin or the one who is our representative, identifying with us in our sinful condition. I believe it is not a matter of either/or, but both/and. Jesus alone could bear the burden of taking upon himself the weight of God's judgment for our sin; none of us can bear the burden for our own broken and sinful condition, let alone the entire world. We would be consumed and undone in the process. And yet, Jesus represents and identifies with us fully. Borrowing a line from the church fathers, the unassumed is the unhealed. If Jesus did not assume our humanity and identify fully with us in our condition, he could not heal us. He is God with us, Immanuel (Matthew 1:23), not the God apart from us. He is also the lamb of God who takes away the sin of the whole world (John 1:29). He is the high priest who bears our burden, identifies with us fully as our representative, even while not sinning (Hebrews 4:15), and takes away our sin with its penalty as our substitute (Hebrews 7:27).
In similar fashion, conservatives and liberals have often debated whether Jesus died for the sins of the world or with the poor. Again, it is not a matter of either/or, but both/and. Matthew 5:3 talks about the need for us to be poor in spirit; elsewhere, we find that Jesus took upon himself our spiritual poverty in order to make us spiritually rich (2 Corinthians 8:9). From the other angle, Luke's Gospel presents Jesus identifying with the poor and downtrodden (Luke 6:20). While not being a respecter of persons, Jesus identifies with those no one else will.  He becomes marginalized for the sake of those on the margins. We must keep Matthew 5:3 and Luke 6:20 together in balance rather than read one as overshadowing the other. What is so striking to me is that Jesus is not aloof; he does not throw charity at the poor; he comes close and becomes one of them—one of us. Moreover, Jesus does not simply identify. He does more than feel our pain; he heals it. It is important that he identifies with us and substitutes himself for us; otherwise, we will never experience relational connection with the one who frees and saves us; nor will we experience deliverance if all he does is connect with us.
Jesus' atoning work removes false dichotomies and fosters rightful unities, making it possible for us to become truly whole. Can you think of other dichotomies about Jesus and his cross that we need to sift through and cross out in search of wholeness? What are these dichotomies that you have in mind? Why do they stand out to you and what does resolving them mean for our relationship with God, one another, and the world?