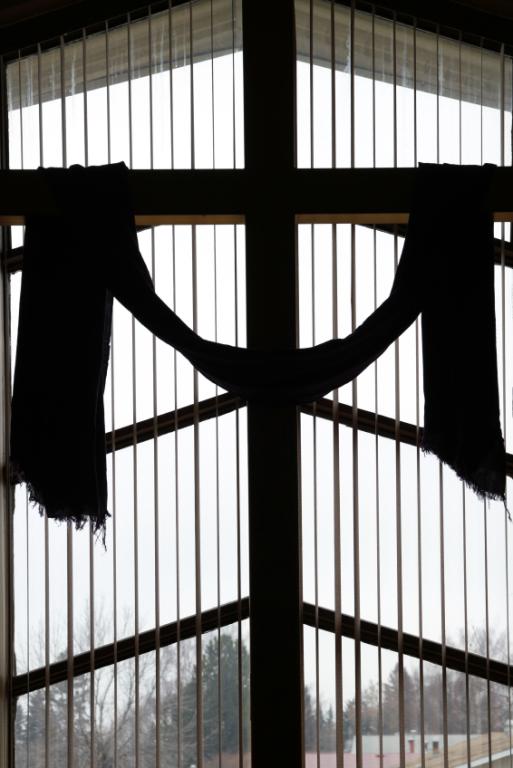 I still remember from my childhood the black shroud draped over the cross on Good Friday in my Lutheran church. On Easter Sunday, the cross was draped in bright colors reflecting the resurrection. The stark contrast was important to the cultivation of my theological imagination and faith. Not only did the contrast highlight all the more the amazing miracle of Easter Sunday, but also I realized that one has to go through Good Friday to get to Easter.
Yesterday in my contemporary theology class, we discussed the symbolic significance of the cross for theologies of liberation and the reality of Good Friday. One of the students remarked that he had witnessed similar symbolism concerning Good Friday growing up in the Midwest, but that he found it difficult to find it presently. When he inquired of one Protestant pastor here in the Pacific Northwest, the pastor informed him that his church downplayed the solemnity of Good Friday because it reflected Catholic trappings and associations. Perhaps my student's encounter with this Protestant pastor was extreme, isolated and unrelated to geography; still, it is worth pondering if we often downplay Christ's sufferings today in various contexts, not because of Catholic trappings, but because of prosperity gospel trajectories.
I would take Roman Catholicism's emphasis on identification with Christ in his sufferings any day over against prosperity gospel intrusions. In fact, why should such somber and serious identification be limited to Roman Catholicism? Solidarity with Christ in his sufferings is a biblical emphasis, as noted in Paul's words in Philippians 3:10-11: Paul wants intimacy with Christ, not simply knowing his resurrection power, but also knowing and fellowshipping and being like Christ in his weakness, suffering, and death: "that I may know him and the power of his resurrection, and may share his sufferings, becoming like him in his death, that by any means possible I may attain the resurrection from the dead." Paul understood that we must deal with the whole Christ, and nothing but the whole Christ.
Not only must we identify with Christ in his sufferings, but also we must identify with Jesus in his solidarity with people in their suffering. I believe Johnny Cash was one person who sought to connect the dots between Jesus' suffering and that of the world and our need to identify with Jesus in solidarity with others who experience oppression. Cash referred to himself as the "Man in Black," which conveyed his sense of solidarity with the marginalized and beaten down, among others (listen here to Cash perform the song by the title "Man in Black"). Just as the cross in my Lutheran church was shrouded in black on Good Friday, the Lord shrouds himself in black and calls on us to be people in black, like Cash. What colors will we be wearing come Good Friday and beyond?