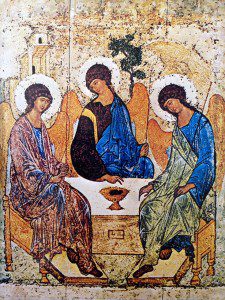 One of the many qualities that people admire about Jesus was his open posture toward people who were often excluded from the table. Just think of how he engaged the poor, oppressed and Gentiles (Luke 4:16-30), lepers (Luke 5:12-16), the "sinful woman" washing his feet in Simon the Pharisee's house (Luke 7:36-50), little children (Luke 18:15-17), and the chief tax collector Zaccheus (Luke 19:1-10). As in the case with Zaccheus and the sinful woman (a prostitute), Jesus did not ignore or condone their sins. They came forward in repentance; however, it was Jesus' love that led them to repentance, not rejection of them.
Jesus risked quite a bit in opening himself up to them. Jesus invited himself to Zaccheus' home to dine with him and his associates. No doubt, Jesus' popularity dipped quite a bit in the opinion polls, as the people viewed Zaccheus as a traitor to the Romans and a cheat (which he was). Jesus did not shun the sinful woman, who made quite an unwelcome scene at Simon the Pharisee's house. Simon held Jesus in contempt for affirming the woman's broken and contrite spirit; Simon determined that Jesus could not be a prophet (Luke 7:39). Little did Simon know that Jesus could not only tell the true state of the woman washing his feet with her hair but also he could sense Simon's hard heart and read his cold thoughts: those who are forgiven much love much; those who are forgiven little love little (Luke 7:40-47). Jesus' open posture toward those the system excluded eventually led to his being crucified outside the city's gates; his exclusion led to people's radical inclusion by faith—not by human pedigree and bloodlines, as he made them holy through his blood (Hebrews 13:12; John 1:11-13).
One might be tempted to say: "Jesus' posture may be open, but not God's. If only the Father were like Jesus." It would take too long to go through all the various texts that one must account for in addressing this subject. For now, I only have opportunity to reflect briefly upon John 17, where we gain an insider's look on Jesus' relationship with the Father. In Jesus' high priestly prayer before his passion and death, he calls upon his Father and recounts that he has shared the glory the Father has given him with his followers (John 17:22). The triune God is not a glory-grabbing deity who excludes us from his circle. Rather, the Father and Son in the Spirit welcome all of us to the table by faith to share in the glory of God's love, as reflected in Rublev's icon of the Holy Trinity (pictured above).
All too often we exclude ourselves from the table of God's love. Rather than responding in faith to God's love, we turn away in fear and shroud ourselves in doubt. We hide our secrets and lock everything up in dark closets and shacks of painful experiences and throw away the keys. Little do we know that God has an extra set.
This reminds me of Paul Young's The Shack, where the Father, Son and Spirit welcome a man who has pushed God out of his life to meet him at the shack where his nightmares and painful questions are locked away. As in the case of this story, God does not exclude us; we exclude God, but God has a way of meeting us where we're at and leading us to open the doors of our hearts through honest and open dialogue. What we need is an open table where such dialogue can exist.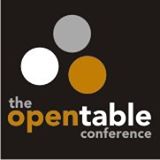 The Institute for the Theology of Culture: New Wine, New Wineskins is pleased to host The Open Table Conference at Multnomah University on June 20-22 in Portland, Oregon. The focus of the conference is The Trinitarian Faith. As with all Open Table conferences, the featured speakers are Paul Young and Baxter Kruger. Guest speakers for this conference are Brad Harper, John MacMurray, Roger Newell, and Paul Louis Metzger. The aim of the conference is to provide a context for "open dialogue." "The Open Table Conference is designed to provide you the opportunity to explore questions of life and faith with a depth that is hard to match in the rhythm of daily life." Please join us.