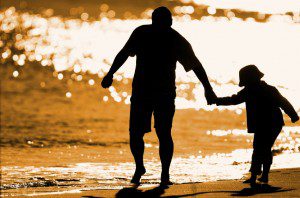 A friend once said to me that he was drawn to Jesus, but did not know what to make of Jesus' Father. I can appreciate his sentiment in view of how many people today struggle with the painful memories of difficult and traumatic childhood experiences. Many individuals have found their own fathers abusive and/or absent. So often, we spend our lives running from painful memories involving fathers or hunting for father figures who will care for us.
If the Gospel of John had been written in our day, an Americanized Philip troubled by painful father memories might have been tempted to say to Jesus, "Don't show us the Father. You are enough for us." What a far cry from what Philip said to Jesus as recorded in John 14: "Lord, show us the Father, and it is enough for us" (John 14:8; ESV). Unlike those who struggle today to see that the Father is good like Jesus, Jesus' earliest disciples struggled to see that Jesus was good, that is, from above—from the Father. These disciples were tempted to see that Jesus was from below, just like everyone else. Against this backdrop, the Gospel of John goes to great lengths to show us that Jesus is from the Father (See for example John 14:1-11; cf. John 3:31).
Jesus assured Philip and the rest of his disciples on the night of his passion that he is from the Father, and that if they see him they see the Father (John 14:9). In this light, it is important to stress that what we see in Jesus is what we get with God; God is greater than what we find in biblical revelation, but not different.
Those of us who have struggled with our fathers cannot rewrite the past, but we can forgive, as hard as it might seem. We can also guard against viewing Jesus' Father as abusive like those fathers who have failed us. Moreover, all of us can come together to listen and care for those abused and abandoned as orphans. As we care for one another with the heavenly care of Jesus, we wrap each other in his Father's embrace.
In the movie Good Will Hunting, Will Hunting is a troubled young man whose relationship with a father figure scarred him in many ways. It took a counselor's constant and consistent care and unshakable embrace to free him from the past and open up to him a future where he could live secure. My prayer on Father's Day is that all of us would come to know deep down inside that God is Abba—Daddy Father—through Jesus in the Spirit (Romans 8:15; Galatians 4:6). As we experience Abba's love, may we in turn go in pursuit of those who are abused and abandoned and care for them from the heart. With this prayer in mind, I wish everyone a blessed Father's day.