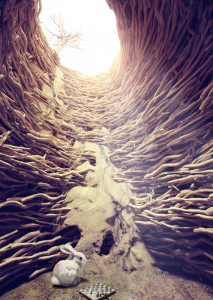 "In another moment down went Alice after it, never once considering how in the world she was to get out again.
The rabbit-hole went straight on like a tunnel for some way, and then dipped suddenly down, so suddenly that Alice had not a moment to think about stopping herself before she found herself falling down a very deep well." (Lewis Carroll, Alice in Wonderland, Wordsworth Editions Ltd., 1993, 2-3)
In Alice in Wonderland, curiosity gets the better of Alice. She pursues a talking rabbit in a waistcoat bearing a watch down a rabbit hole. She has no idea what she is getting herself into, or how far down the rabbit hole goes. I am a lot like Alice: I often have no idea what I am getting myself into when it comes to following Jesus.
In the canonical gospels, Jesus knows what he is getting himself into when he comes to earth to identify with us and bear our sins. He also knows how far down the hell hole goes. Unlike the white rabbit, Jesus does not panic about being late. He is on time. Yet, sometimes I panic when I consider how far Jesus goes. Jesus goes down further than we would ever wish to go, and further than we would ever imagine him going.
Sometimes Christians like me fail to count the cost before following Jesus down the hole. Like Alice, we fail to consider at the outset of the journey how far the hole goes, where it leads, or what might happen. How far down the rabbit hole are we willing to go in pursuit of Jesus? Once we enter, do we really have a choice as to what will happen? Will we experience the magical adventures of Wonderland, or simply the sharp edge of the Queen of Heart's command, "Off with their heads!"? Will Jesus catch us in the end?