Zen Buddhist priest Kyogen Carlson (1948-2014) was a bridge-builder. He built bridges of understanding and respect over the dirty, murky, troubled waters of our nation's culture wars. It is a deep irony that a man with such an open heart and mind died of a massive heart attack. Whether one knew him or not, each person owes him a debt of mindfulness for what he risked and accomplished. Among other related practices, he helped bring liberal Buddhists and conservative Evangelical Christians together.
Kyogen's endeavor was no easy task. We live in a culture often given to objectifying sound bites. These sound bites polarize people of varying convictions so that they collide and sometimes drown. Kyogen would often say interfaith dialogues don't go far enough since they often bring people together who are saying virtually the same thing. It is far more challenging, meaningful and rewarding to cross troubled waters by building bridges of understanding with those who are not saying the same thing and who approach life very differently.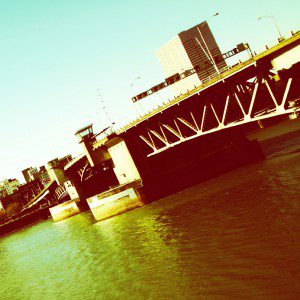 Kyogen traveled a great distance over troubled waters through his zazen (seated meditation) in his sangha (Buddhist community) at Dharma Rain Zen Center to engage openly Evangelicals in Portland, Oregon with our very different beliefs and practices. This same zazen helped him and his beloved wife and co-abbot Gyokuko comfort and bring healing closure to fellow Buddhists' hearts who experienced pain from past collisions with Evangelicals.
Rarely if ever have I encountered a contemporary who sought to step into other people's shoes and see life as they did. He called many of us Evangelicals to take biblical stock of our Lord Jesus' compassion and his incarnate love of stepping into our shoes to experience life through our eyes. As the Bible and Kyogen have shown me, it is easy to pass judgment; it is not so easy to pass over judgment and even undergo people's judgment by seeking to build reconciling bridges through apologies, forgiveness, and understanding. Not only did Kyogen call to mind the Bible, even as he drew from his Buddhist sutras, but also he taught me so much about human dignity and how to approach people as people with all their complexities. They are not the cardboard cutout placards that the culture war factions bear into battle as they shoot poisonous arrows of ridicule at one another. Kyogen taught us that it takes far more courage to listen. He also demonstrated that listening is a form of love.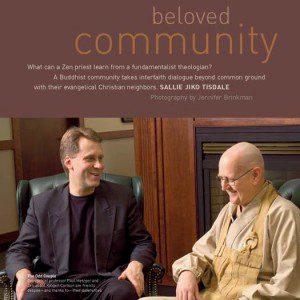 I first met Kyogen in 2003. From the very start, we were involved in exchanges over how to build understanding and trust where misunderstanding and distrust prevailed. We built a deep friendship through creating space at open tables in pubs and cafés and fellowship halls for our respective communities' views to be heard. For those interested, you can read or listen to these accounts of what has been called an "odd couple" relationship ("Beloved Community," article by Sallie Jiko Tisdale, Discussion with Paul Louis Metzger and Kyogen Carlson, podcast interview with John W. Morehead, Multi-Faith Dialogue Event at Powell's Books, Burnside, Portland, Oregon, audio). You can also find out more about Kyogen's life through this fitting and memorable obituary.
Kyogen was by no means odd to me. He was one of my dearest friends. A part of me died when he passed away. As long as I live, I hope to engage people mindfully with Kyogen in mind.
I am grateful that others who joined us and who built friendships will continue to build bridges of trust in honor of Kyogen and one another. In honor of Kyogen and in appreciation for those Buddhists and Evangelical Christians who joined us in building bridges of trust, I close with these words from St. Francis of Assisi:
Lord, make me an instrument of Your peace. Where there is hatred, let me sow love; where there is injury, pardon; where there is doubt, faith; where there is despair, hope; where there is darkness, light; where there is sadness, joy.

O, Divine Master, grant that I may not so much seek to be consoled as to console; to be understood as to understand; to be loved as to love; For it is in giving that we receive; it is in pardoning that we are pardoned; it is in dying that we are born again to eternal life.