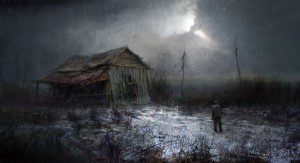 You may be familiar with the Christmas carol "Away in a Manger" and the biblical text to which the song alludes: "And she gave birth to her firstborn son and wrapped him in swaddling cloths and laid him in a manger, because there was no place for them in the inn" (Luke 2:7). But are you familiar with the debate that often ensues concerning the location of Jesus' birth? Options include a a cave, a barn, a house, and a tower. To this point, I have not come across anyone who believes the Lord was born in a shack. Regardless, Jesus and his Father meet people at the shacks of their dark skeletal secrets, broken lives, and haunting memories all the time. Jesus brings healing to them there so that they can experience new birth. Hopefully, there is no debate about that!
Paul Young's fictional story The Shack addresses the real life pain of countless people. As you may be aware, The Shack is about God meeting a deeply hurting and doubting man ("Mack"), who hides from God and others at the infamous shack, where his daughter had been raped and murdered years earlier. God meets him in the form of a motherly African American woman figure named "Papa." She is vulnerable and open-hearted, yet resilient with incredible strength and endurance, like so many African American women.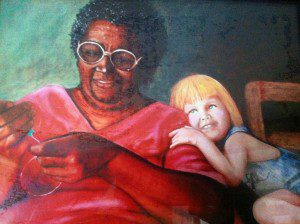 I was struck by Paul Young's use of an African American motherly figure to portray the heavenly Father. It made perfect sense to me in view of the characteristic traits often associated with African American women, their brutally painful and tragic history, and the inability of the broken and wounded Mack to speak heart to heart with a distant, stern and imposing grey-haired white male figure, as he anticipated that God the Father would be. However, Mack could relate to this "Papa" before him at the shack.
Later, God or "Papa" does appear to Mack as an old grey-haired father figure in the story. Many people (myself included!) assumed that the figure in question was a white man. While Paul Young does not make it explicit, he leaves a hint for us that the Father is actually an African American man—he still has the brown eyes "Papa" did in appearing to Mack as a black woman.
Some may ask, "Why did God have to appear as a man at the end of the story?" For Paul Young, with whom I spoke today by phone, it is because he is dealing with our universal humanity, including women and men. Moreover, the use of an African American motherly figure as well as African American fatherly figure challenge our predominant social constructs concerning the scales of power. Mack—who stands for Paul Young (and in one way or another all of us)—must come to terms with his own abuses. He has not acted appropriately toward his wife, and may also have done great harm to his father. Although he is a victim with the loss of his daughter, he has also been guilty of victimization. He must renounce his own abuse of power, just as we all must do away with hierarchies and scales of power that position us over others. Like Mack, we must all come to terms with God's love that leads us beyond a system of fear and reframes power so that we do not take life but give ourselves sacrificially for the sake of others.
Last Sunday at my church, an African American man Clarence Larkins stood up and lamented the tragic deaths of African American men across the country. He addressed the scales of power and system of oppression and fear. Here is what Clarence wrote in a piece titled "Black Life Matters":
Trayvon Martin Florida

Michael Brown Missouri

Eric Garner New York

Tamir Rice Cleveland

All Black Men all unarmed all killed by homicide.

What is it that caused the death of these Black Men? It's a system of fear. You are supposed to protect me, but how can you protect me when you fear me? You fear my size and my color so you treat me worse than others. It's a system of fear. Your system despise me, don't trust me so you block me. I have dreams, hopes, goals, and I have family and a community that knows me and loves me. Please don't block me with your system of fear. 2nd Tim. 1:7 God hath not given us a spirit of fear, but of power, and of love, and self-control. My Christian Brothers and Sisters when we witness a system that is unjust, speak up with the spirit of power, love, and self-control and see how Christ changes a system of fear to a spirit of love. Hands up don't shoot. I can't breathe. Two statements that expose a broken system and cost a movement around the nation. John 3:16 For God so loved the world he gave his only begotten son, that who so ever believeth in him should not perish, but have everlasting life. That is the Word that will save the world, and heal a broken system. Spread the Good News, to God all life matters.

Dec. 14-2014

The Year of the Lord

By Clarence Larkins Sr.
Clarence did not allow a system of fear and abusive power to keep him from sharing. He stood up and spoke of the need to share the good news of God's love in Jesus for the whole world—all life matters. What about us? Do we share openly about a system of fear? Do we address our struggle with abusive power and our hope in God's abiding love? How can we protect one another, when we all too often fear and try to master one another? How can we find healing when we hide our hopes and fears in the shacks of our despairing souls? Jesus meets us at our shacks. He meets us in the manger. In Jesus, we realize that perfect love casts out fear.
Jesus came into a world system cloaked in darkness and suffocated by fear. The Romans and Herod oppressed anyone who resisted their damnable hierarchy of enslaving power. Rather than attack it on its own terms, Jesus with his "Papa" in the Spirit overturns the system by coming to us in vulnerability and open-hearted love that is resilient with incredible strength and endurance. God's love breaks through to us at the shacks of our existence where we so often hurt and hide.
Away in the Manger. Away in the Shack. No room in the inn… Will you make room for Jesus and his Papa in your hearts today?