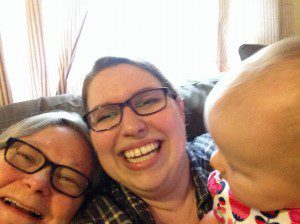 Laughter is good for one's well-being, as some researches will tell you. But not any kind of laughter, I'm sure. Mocking, cynical and disbelieving laughter only poison one's being. Laughter bound up with joy, gladness and thanksgiving are very powerful forces. Just think of the following text: "A joyful heart is good medicine, but a crushed spirit dries up the bones" (Proverbs 17:22; ESV).
I was reminded of this reality when reflecting upon the lives of Sarah and Abraham in the Bible. Perhaps this ancient story has something to teach us about laughter as we look ahead to 2015. God turned Sarah's laughter of disbelief and perhaps despair into laughter of great joy. Maybe God will do the same for us this coming year?
In Genesis 18, God tells Abraham that in about a year's time, Sarah would give birth to a son. Sarah laughed at the news. When pressed, she denied it, but God pressed her and said she did laugh (See Genesis 18:9-15). Although God pressed Sarah, he did not take back his promise. Earlier in Genesis, Abraham had also laughed when God told him that Sarah would give birth to a son; God told Abraham at that time that the child was to be called Isaac—laughter (literally, "he laughs"; Genesis 17:17-19). As promised, Sarah gave birth to Isaac the following year (Genesis 21:1-3). Sarah said, "God has made laughter for me; everyone who hears will laugh over me" (Genesis 21:6; ESV).
God had been promising a son through Sarah for Abraham and Sarah for some time (Genesis 12:1-3, 7; Genesis 15:1-21; Genesis 17:1-21). I could understand why Abraham and Sarah had laughed at the news given the length of time between promises and fulfillment and given their advanced age. Add to that their own disregard for the promises. On two occasions, Abraham (the first as Abram) basically handed over Sarah to foreign kings without a fight to spare his life; God intervened and returned Sarah to Abraham (Genesis 12:10-20; Genesis 20:1-18). In between these two events, Sarah (then Sarai) gave her handmaiden Hagar to her husband to have a child for her (things did not turn out so well, to say the least; Genesis 16:1-6); moreover, Abraham apparently wanted God to bless Ishmael in place of the promised newborn (Genesis 17:17-19).
This Sunday, the guest speaker at my church, Irvington Covenant, drew attention to the two episodes in which Sarah's laughter is mentioned—the laughter at the news of the promised birth followed by the eventual birth of laughter (Genesis 18:9-15; Genesis 21:1-6). Brenda Chung-Otterson, Assistant Pastor of Access Covenant Church in Portland, gently and thoughtfully encouraged us in view of God's promise to trust in God in times of seeming barrenness and hope for transformation in our circumstances as believers and as a church. As a congregation, we invested time in praying together in view of the morning's meditation on the Genesis narrative at the close of the service.
It may not be that husbands and wives struggling with seeming infertility will have children this coming year, or that singles looking amidst loneliness for lifelong companions will find them. It may not be that individuals who struggle with addictions and recurring temptations that tend to incapacitate them will find total liberation. It may not be that congregations going through difficult seasons of apparent drought will find the barns of ministry production of the American variety bursting at the doors. Yet we might find God working in these and other ways to bring joyful laughter when once there was only sorrow and possibly cynicism. It might just be that we will find God as our joyous laughter in the midst of our struggles in the coming year.
Abraham's problems did not disappear at the birth of Isaac. Just think of the trials he went through involving Isaac and Ishmael (Genesis 21:8-14), and the test involving the sacrifice of Isaac (Genesis 22:1-14). As Hebrews reminds us, Abraham never found that for which he was looking. However, he did not hope in vain, for he will find the promised land and heavenly city along with all who wait on the Lord (Hebrews 11:8-16; 39-40).
As we enter the coming year, it is important that we look back and discern how we have seen God work in our midst. Perhaps the road has not been easy. Perhaps we have wandered about through deserts and foreign lands, where we encountered dangers at various turns. Perhaps we stumbled and fell and laughed at God's promises for a time. But where are we now? And where are we going? Have despair and cynicism subsided, or are we filled with remorse and resentment? Are we more resilient, as we consider God's Word of promise? Consider the trials of Abraham and Sarah, our parents in faith. Consider the trials of the Lord Jesus, the founder and perfecter of our faith. For the joy set before him—life with us—he endured the cross and despised its shame. He himself was looking forward to his reward:
Therefore, since we are surrounded by so great a cloud of witnesses, let us also lay aside every weight, and sin which clings so closely, and let us run with endurance the race that is set before us, looking to Jesus, the founder and perfecter of our faith, who for the joy that was set before him endured the cross, despising the shame, and is seated at the right hand of the throne of God. Consider him who endured from sinners such hostility against himself, so that you may not grow weary or fainthearted (Hebrews 12:1-3; ESV).
There will be plenty of opportunity for heartfelt cries of sorrow and sadness in the coming year. We may even endure seasons of grief. But may we not grow weary or fainthearted and turn our backs on God. Those who hope in him will renew their strength and their sorrow will turn to gladness and laughter, as they give thanks:
but they who wait for the LORD shall renew their strength; they shall mount up with wings like eagles; they shall run and not be weary; they shall walk and not faint (Isaiah 40:31; ESV).

You have turned for me my mourning into dancing; you have loosed my sackcloth and clothed me with gladness, that my glory may sing your praise and not be silent. O LORD my God, I will give thanks to you forever! (Psalm 30:11-12; ESV).
Further to the Psalmist's words here, thanksgiving is essential. Sometimes it follows joy and laughter; at other times, it leads to joy and laughter. I have learned over the course of many years that thanksgiving often gives rise to a joyful spirit. It is not that I give thanks for hardships, but that I give thanks to God in the midst of difficulties.
It is the Lord's will that we rejoice and give thanks. It leads to gentleness and a deep, abiding confidence that the Lord is near (Philippians 4:4-7; 1 Thessalonians 5:18). Practicing thanksgiving bound up with trust in God's loving-kindness and care help me regain perspective in life. It can also give rise to laughter, which is good for the body and good for the soul. In view of the Lord and your own well-being personally and collectively, be sure to laugh in the New Year.