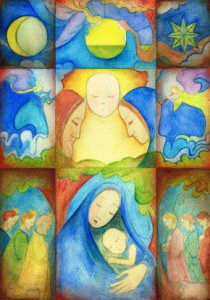 You have heard the saying, "Misery loves company." How about loneliness, or is that a contradiction in terms? Still, I thought I would reflect upon the subject given that Christmas is likely one of the loneliest days of the year. How can this be given that Christmas is considered perhaps the most joyous and communal holiday for a great number of people across the world? No doubt, all the emphasis on joy and community highlights all the more the social isolation many people feel.
The Daily Mail reports that according to Great Britain's most senior casualty doctor, Prof. Keith Willett, the fear exists in the UK that "Beleaguered A&E [Accident & Emergency] departments face being overwhelmed at Christmas by lonely, elderly people." Britain's Care Minister Norman Lamb called upon Britons to care for their neighbors who experience isolation so that the UK does not become a "neglectful society" (For more on the situation, refer here to the BBC's story).
The problem does not only exist in the United Kingdom. It also exists here in the States, where according to one of my students serving as a chaplain in a retirement center, we often warehouse our elderly. The problem is not sequestered to the elderly either. Single people without families and networks of friends, as well as other isolated persons, feel the weight of loneliness. They are not alone. We are not alone. The Lord Jesus himself experienced loneliness during his sojourn here on earth, as did his parents, no doubt, given the child they raised. Perhaps we can find comfort in knowing that the Lord himself experienced loneliness, in part so that he could identify with us.
Jesus was a man of sorrows, familiar with suffering (Isaiah 53:3). The Scriptures tell us Jesus went off to lonely places to pray (Luke 5:16). In his hour of prayer before his passion unto death, he was alone; even his closest disciples could not remain vigilant—they fell asleep (Mark 14:37). He alone was imprisoned that night; he made sure none of his followers were taken into custody (John 18:8-9). Jesus died alone—he experienced alienation and isolation from his Father in his death so that we would never have to experience the same fate (Matthew 27:46).
Jesus' mother was one of a kind—no one else had ever conceived a baby as a virgin (Luke 1:27, 34). Perhaps Mary, a simple peasant girl, was alone when the angel came to her to share with her the exceedingly good and overwhelming news that she would give birth to the Messiah (Luke 1:26-38). Even Joseph did not know for a time (Matthew 1:18-25). How could she have born this news and this baby?! Perhaps only she and Elizabeth her cousin knew at first (Luke 1:39-45). And how could Joseph have gone through with it either? Just think of the possible rumors and gossip both Mary and Joseph heard and endured. One wonders if Joseph and Mary felt all alone in the world as the birth approached, as they traveled on crowded roads to Bethlehem for Caesar's census (Luke 2:1-5). They could find no room in the inn either, and so the baby was born in a manger (Luke 2:6-7). Mary was told that a sword would pierce her heart, which it did at Jesus' crucifixion and death (Luke 2:35). She and Joseph did not always know what to do with Jesus, who wandered off as a boy on a family trip to be about his father's business (Luke 2:49). Joseph likely died before Jesus began his public ministry, since there is no mention of his presence beyond Jesus' twelfth year; who knows how long Jesus experienced life without his father? Jesus stood out among his brothers; even they and their mother looked at him as a bit different, perhaps out of his mind at times (Mark 3:21; John 7:3-5). I can only imagine how lonely Jesus must have felt—a man of sorrows, familiar with suffering.
Still, this man of sorrows who was familiar with suffering was and is God with us (Matthew 1:23). God experiences loneliness, neglect and rejection in coming to identify with us (John 1:9-11; Matthew 25:31-46). He identifies with the neglected and exhorts all of us not to neglect others (Matthew 25:31-46). No doubt, Jesus' own loneliness caused him to feel great empathy for others who experience the gnawing pain of isolation.
As we celebrate Jesus' birth this season, may we celebrate others, especially those who like Jesus endure isolation. In view of the neglected God incarnate who does not neglect others, may we not warehouse them or allow them to give birth to increased loneliness outside the inn. May we join Jesus by reaching out to them with a warm smile, a phone call, a card, a visit, a meal, an embrace: "God with us, Immanuel." God with us with them, Immanuel.