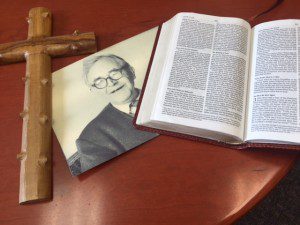 The story goes that the Swiss theologian Karl Barth was asked during his one visit to the States in 1962 to summarize his theology. This would be no small request. Barth's thought had developed in a variety of ways over decades. Moreover, it spanned scores of books made up of seemingly countless millions of words. According to the account, Barth replied, "Jesus loves me, this I know, for the Bible tells me so." Not bad as a story. Not bad as an answer for a theologian often hailed as the greatest of the twentieth century.
Several ideas come to mind, as I recount this tale (which I take to be true; refer here to a discussion of the attribution). No matter how sophisticated one's learning becomes, one should always maintain a simple and pure devotion to Christ. The serpent's cunning so easily leads us away to worship other lords and adhere to other gospels, as Paul warns the Corinthians (2 Corinthians 11:3).
Simplicity and humility go together. But how do they relate to greater depths of knowledge? While we should pursue greater learning, the expansion of our minds will humble us, and vice versa (as Charles Spurgeon noted), if we are approaching our studies well. A growing mind and a shrinking heart do not exist well together in Christian theological studies. One becomes brittle in thought, if love of the revealed mystery of God in Christ Jesus is absent. After all, though knowledge of God through Scripture is critically important to our relationship with God, love surpasses knowledge (Ephesians 3:19); love is greater than all (1 Corinthians 13:1-3, 13). And no matter how great our love for God is, it always reflects God's supreme love: "Jesus loves me, this I know, for the Bible tells me so." Biblical knowledge is a means to this end.
While hailed as one of the all-time theological giants, Barth was also ridiculed throughout his career as a radical, religious enthusiast and theological dinosaur. Who knows what people might have thought of such simple responses as this one attributed to Barth noted here? I am sure Barth struggled with peer pressure; we all do. Hopefully, we all struggle to make sure the glory of God trumps human glory in our hearts and imaginations. Barth and we are not alone.
One learned scholar came to Jesus at night to inquire of him. Perhaps he did not want his associates to know he was seeking an audience with Jesus. Jesus told Nicodemus that he needed to be born again, born from above. No matter how much he had learned, he had to start from scratch. Unlike many in his peer group, Nicodemus comes into the light of day (John 3:1-21). He even sides with Jesus on more than one occasion—when other members of the religious elite denounce Jesus (and Nicodemus, too), and after Jesus' execution (See John 7:45-52; John 19:38-42). Nicodemus' love for the glory of God transformed his mind and made it possible for him to see right through the shallowness of human glory and wisdom (John 5:39-44).
May our knowledge, no matter how sophisticated, lead us to greater depths of simplicity and humility. After all, Jesus' splendor is a cruciform glory. People may mock us for it, but he will have the last laugh; when he is lifted up on the cross in his eternal hour of resurrected glory, he will draw all people to himself (John 12:32; cf. John 3:13-15).
In closing, may we come to terms with the fact that no matter how much we study, we will never be able to exhaust the knowledge of this mystery. To quote from Charles Wesley's "Love Divine, All Loves Excelling," may we be ever "lost in wonder, love, and praise." John's Gospel closes as a hymn of praise, "Now there are also many other things that Jesus did. Were every one of them to be written, I suppose that the world itself could not contain the books that would be written" (John 21:25; ESV).
*This reflection was presented as a devotional for new student orientation at Multnomah Biblical Seminary, on August 28th, 2015.