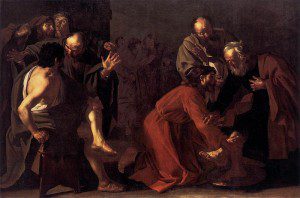 When people, Christians included, speak of making America great again, what do they have in mind? The New Testament defines greatness very differently than the world does. Take note of the following:
A dispute also arose among them, as to which of them was to be regarded as the greatest.  And he said to them, "The kings of the Gentiles exercise lordship over them, and those in authority over them are called benefactors. But not so with you. Rather, let the greatest among you become as the youngest, and the leader as one who serves. For who is the greater, one who reclines at the table or the one who serves? Is it not the one who reclines at table? But I am among you as the one who serves.

You are those who have stayed with me in my trials, and I assign to you, as my Father assigned to me, a kingdom, that you may eat and drink at my table in my kingdom and sit on thrones judging the twelve tribes of Israel" (Luke 22:24-30; ESV).
In Jesus' upside down kingdom, those who serve others will reign—those who wait on tables, not sit or recline at them. Such service reflects Jesus and his call to greatness. How we view greatness as Christians influences many things, including how we relate to others inside and outside the church, how we vote in elections, and even how we approach sufferings.
Related to greatness, boasting looks very different in Jesus' kingdom. The Apostle Paul was a man of great intellect, passion, and strength of will. It was not easy for him to deal with weaknesses, but God gave him a thorn in the flesh to keep him from boasting in his surpassing visions (see 2 Corinthians 12:1-10).
We don't know what the thorn was: perhaps a bodily ailment, perhaps his extreme sufferings for the faith, including his anxieties for the church's faith in Corinth (see 2 Corinthians 11:16-33), and/or perhaps the lack of respect he endured from the church he planted in that city, as they endeared themselves to the "super apostles" with their false gospel message (see the immediate context following 12:1-10; see also 2 Corinthians 2 Corinthians 10-11:1-15).
What we do know about Paul's struggle with his thorn in the flesh is that the Lord led the Apostle to boast in his weaknesses:
Three times I pleaded with the Lord about this, that it should leave me. But he said to me, "My grace is sufficient for you, for my power is made perfect in weakness." Therefore, I will boast all the more gladly of my weaknesses, so that the power of Christ may rest upon me. For the sake of Christ, then, I am content with weaknesses, insults, hardships, persecutions, and calamities. For when I am weak, then I am strong (2 Corinthians 12:8-10).
The theme of boasting is central to 1st and 2nd Corinthians. In 2 Corinthians alone, references to boasting appear more than in all of Paul's other letters. The first reference to boasting in the two letters to Corinth occurs in 1 Corinthians 1:31. The statement in verse 31 is a quotation taken from Jeremiah 9:23-24, which calls on us to boast in the Lord rather than in our own strength, wisdom, and riches. Paul references this godly boast in view of the fact that the Corinthians were boasting in seemingly almost every other thing—worldly strength, wisdom, charisma, liberty, and the like, rather than in the crucified and risen Jesus.
At Thanksgiving, what or who are you and I boasting in? For those of us who are Christians, can we take comfort from Paul's words that we are to boast in our weaknesses so that Christ's strength and greatness will be manifest in us? Are we thankful for the knowledge that as we boast "gladly" in our thorns of weakness given to us from above that the Lord will manifest his power, wisdom and glory through us?
We need a sanctified imagination. A modern day Apostle Paul, Dr. John M. Perkins, once shared with a group of us from New Wine, New Wineskins at Multnomah University that we need to be creative in our sufferings. Dr. Perkins was speaking from experience, as one who has suffered greatly for his faith in the midst of racial oppression and economic exploitation. All too often, sufferings sap our strength and creativity. But not for Paul, and not for Perkins.
As we celebrate Thanksgiving, may we relish in the bounty of the Lord's gracious power and wisdom that he puts on display in and through us as weak instruments as we trust in him. May our boast cause us not to align with those who would make themselves great at the expense of those who are weak, but with the weak and foolish by the world's standards. After all, who is our Lord? The one who though great made himself nothing, and whose resurrection wisdom and power manifest themselves ever and only through the foolishness and weakness of his cross. And after all, who are we who confess to follow Jesus? Those whom he chooses in spite of and because of our own frailty and foolishness by the world's standards:
For consider your calling, brothers: not many of you were wise according to worldly standards, not many were powerful, not many were of noble birth. But God chose what is foolish in the world to shame the wise; God chose what is weak in the world to shame the strong; God chose what is low and despised in the world, even things that are not, to bring to nothing things that are, so that no human being might boast in the presence of God. And because of him you are in Christ Jesus, who became to us wisdom from God, righteousness and sanctification and redemption, so that, as it is written, "Let the one who boasts, boast in the Lord" (1 Corinthians 1:26-31).
So, as we celebrate Thanksgiving, what are you and I most thankful for this year? Where is our boast? Make the American Christian great again: boast in your weaknesses.