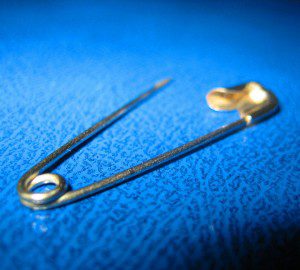 I don't recall images of Baby Jesus in swaddling clothes with a safety pin from my childhood. However, he is God's solidarity pin. As Matthew writes, he is "God with us, Immanuel" (Matthew 1:21). Jesus' genealogy in Matthew's Gospel takes his line back to Abraham (Matthew 1:1-17), and Luke's genealogy takes him back to Adam (Luke 3:23-38). Though descendants of King David, his parents were humble people. He was born in a humble state (Luke 2:7). Humble shepherds came to greet him after his birth (Luke 2:8-20), and later wise men from the East came to worship him, though not King Herod (Matthew 2:1-15). He was a man of sorrows, familiar with suffering (Isaiah 53:3), who let little children come unto him (Luke 18:16), who included women in his inner circle (Luke 10:38-42), who was friends with tax collectors and sinners (Matthew 9:11, 11:19), who touched and healed lepers (Matthew 8:3), who was crucified between two robbers (Matthew 27:38), who was buried in a rich man's tomb (Matthew 27:59-60), after dying to take away the sins of the world (John 1:29), and before rising from the dead as Savior and Lord for all people (Philippians 2:9-11, Revelation 7:9-17).
I reflected on this point of Jesus' solidarity with us after a group of students in my world religions class shared the story of a woman in the area whose house was vandalized with a swastika after she expressed disapproval in public to two men shouting and looking at her, "White is right." The woman had shaken her head and pointed to the safety pin she bore, which she and countless other people are wearing to express solidarity with vulnerable people (You can find the story here).
The students I mentioned above were making a presentation in my world religions class on befriending Muslim refugees in Portland. A few of them shared of how their families were wary of their efforts. Another from overseas said it gave her the opportunity to express gratitude in some way to the Muslims who cared for her family as a child when they were Christian refugees in a Muslim land after they fled their country of origin due to social unrest. Their solidarity drew my attention back to the movie Of Gods and Men, which the class watched earlier in the semester.
As noted earlier, safety pins have been commandeered to express solidarity with the vulnerable in our society (Refer here and here). This is a good symbol. Unfortunately, the swastika, a symbol that historically had good associations in many cultures and religions, was commandeered by the Nazis to express hate (Refer here to the history and use of the swastika).
Theologians like Karl Barth and Dietrich Bonhoeffer stood in opposition to the Nazis with their distorted use of the swastika (ironically an equal-armed cross) and their distortion of Christianity. The Theological Declaration of Barmen authored by Barth, along with his doctrine of election centered in Jesus of Nazareth as the electing God and elect human in Church Dogmatics II/2,[1] and Bonhoeffer's "religionless Christianity" with its teaching of Jesus as the man for others (and his church as the community for others) in his Letters and Papers from Prison[2] serve as a theological assault on oppression at the hands of the Nazis and their ideological descendants. It is worth noting here that Bonhoeffer's Letters and Papers from Prison were not arbitrary but substantially related to his unfinished Ethics, according to Clifford Green, the Executive Director of Dietrich Bonhoeffer Works (See his review "Hijacking Bonhoeffer" of Eric Metaxas's book on Bonhoeffer[3]).
Solidarity is a messy business, just as Jesus' life and Bonhoeffer's theology and ethics were often messy. Like the swastika and Christmas, we often highjack Jesus for our own spiritual and political agendas. He is not Ricky Bobby's baby Jesus of eight pounds and six ounces with diapers of fleece and gold held on with a safety pin. Rather, he identifies with the vulnerable and marginalized in our society.
Bonhoeffer's students recalled his memorable claim: "Only he who cries out for the Jews may sing Gregorian chants."[4] Only he who cries out for the Jews as well as Muslims and for anyone else who is threatened in our society today can sing Christmas carols. For Jesus is God's solidarity pin for the world.
____________________
[1]See Karl Barth, Church Dogmatics, vol. II/2, The Doctrine of God, ed. G. W. Bromiley and T. F. Torrance (Edinburgh: T. & T. Clark, 1957).
[2] See Dietrich Bonhoeffer, Letters and Papers From Prison, Dietrich Bonhoeffer Works, Vol. 8 (Minneapolis: Fortress Press, 2009), pages 499-500.
[3]Green critiques Eric Metaxas's repudiation of Letters and Papers from Prison in Metaxas's book on Bonhoeffer: "The simplest way to refute Metaxas's dismissal of the prison theology is to note Bonhoeffer's answer when Bethge asked him how the book he was writing on religionless Christianity related to the unfinished Ethics. Bonhoeffer answered that the book he was writing in prison was 'in a certain sense a prologue to the larger work [Ethics] and, in part, anticipates it.' So, pace Metaxas, Ethics and the prison theology belong together." Clifford Green, "Hijacking Bonhoeffer," in The Christian Century, October 4, 2010.
[4]See Michael R. Marrus, ed., The Nazi Holocaust, Part 8: Bystanders to the Holocaust, Volume 3, De Gruyter, page 1401.