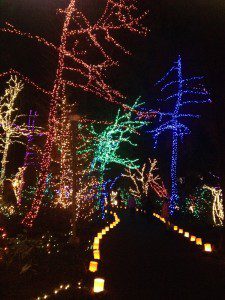 What is it about celebrities? Like saints, they transcend their lives, even if in the case of some celebrities, their lives lack saintliness. The week following Christmas, as part of Christmastide, many of us celebrate and remember saints of old, like St. Stephen, the first Christian martyr, St. John the Apostle, and on January 1st, Mary, the Mother of Jesus. This week, we also come to terms with the passing of celebrities, whose lives remain with us in our passing of time.
Like celebrities, saints serve to situate us, illumine our path, offer us mile markers, and help us gain our bearings through the seasons of life. I still remember the first time I watched the original Star Wars as a child. The force of it has been with us ever since. Carrie Fisher, who starred in that film, and who passed away this week, made a forceful impact in many spheres, including her role as Princess Leia. According to one account, she was the first action heroine, a fierce warrior with a sharp wit, not just another pretty face.
Also, like saints, celebrities can become larger than life and more fiction than reality. We must allow them, if they are willing, to define themselves rather than let their mystique shroud their identities. Fisher was one celebrity who was willing to define herself. One article wrote of her that she was the "author of her own story." "As someone classified as a celebrity for most of her life, Fisher took away the entertainment press' power to define her by communicating through her own words. Besides 'Postcards From the Edge,' Fisher wrote several novels, including 'Surrender the Pink' and the memoir 'Wishful Drinking,' which was adapted from her one-woman autobiographical Broadway show."
While we must allow saints and celebrities to define themselves, we must also not allow them to define our lives, whereby we simply copy them. Just as Fisher was the author of her own story, we need to author ours as well, come what may, rather than fake them like cheap imitations. After all, it is better to be poor and authentic than cheap imitations, no matter how much it profits us. Moreover, for the Christian, the one whose life should ultimately illumine our path is Jesus, whose birth countless people through the ages and across the world celebrate at Christmastide.
Today, the Church remembers St. Thomas Becket, Archbishop of Canterbury and martyr (1120-1170). If pressed, I might defer to my recollection of Richard Burton's classic portrayal of him in Becket, a 1964 production, rather than to what I know from some church history book. After all, the film was made the year I was born. At least, Burton didn't die this year, but in 1984, two years after I graduated from high school. Whether or not Burton acted from truth, conviction and integrity, the Becket he portrayed did, when he became Archbishop, even though he would pay for it with his life (Refer here and here for treatments of Becket; refer here for a definition of saints in the Catholic Church).
We can learn a lot from celebrities like Fisher and saints like Becket, as we journey into the next year of life. Let's draw from the past, even from far away galaxies a long time ago, as we chart our own course, and move forward into the future.