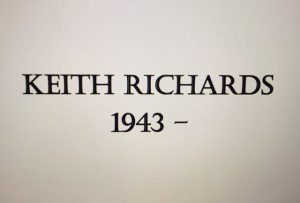 Well, at least it looks as if Rolling Stones guitarist Keith Richards will survive 2016. The Internet is full of memes on Richards' seeming invincibility. Many find it surprising given all Richards has been through—or put himself through—over the years.
I'm glad Richards is still with us, regardless of whether or not he has some "Sympathy for the Devil" (the title of one of the Stones' songs). After all, God is the grand artist and musician. If someone has a gift for music, it comes from God, whether or not they give their Maker credit. Richards' skill in his craft is a credit to his Maker.
As a musician, Richards is an oldie, but a goodie. His guitar riffs are classics that will outlive him and the rest of us. As an old timer, he's got a lot of classic one-liners that could make for great lyrics to the types of songs he and Mick Jagger create. One of them found in the documentary on Richards titled Under the Influence is "Nobody wants to get old, but they don't want to die young either."
Speaking of outliving, Richards sometimes quips on stage, "I'm glad to be here…I'm glad to be anywhere." Perhaps he's referring to his addictions that almost did him in many year ago. In an interview with the BBC on that subject, he recounts how it took his drug bust in Toronto back around 1977 to get him off heroine. He realized that he had been jeopardizing the lives and futures of those most important to him, like his children and his band. Richards ended up expressing gratitude for the Canadian Mounties who busted him: "God bless the Mounties."
There are certainly things about Richards and his band that one can question. They're not Boy Scouts or altar boys. But you can't question Richards' down-to-earth style of humanity. Having come down to earth from his drug-crazed years, he's profoundly homespun and refreshing in not trying to spin life. He's believable.
Richards is also enjoyable. I enjoy watching him take pleasure in playing the guitar. It's almost as if he would pay his audiences to let him play; he so cherishes his craft. I don't sense self-absorption or pretense, only joy.
Another thing I appreciate about Richards is his admiration of great Jazz, Blues and Pop musicians who preceded him. While he will say he belongs to the world's greatest rock 'n roll band, he understands the Stones did not come out of nowhere, but that they are indebted to those who paved the way for them. As he says about Muddy Waters, Johnny Cash and the like, "Rock 'n roll has nothing on those guys."
Lastly, Richards loves performing with others, like Ronnie Wood, Eric Clapton, or the late Waters. Regarding his bandmate Wood, he responded once to an interview question about the quality of their play: "Neither of us are very good. But when you put us together, we're better than ten."
I suppose there are guitarists who are better technically. There are certainly guitarists who have drunk less. But there are few rock 'n roll artists who put more roll into rock, or who play with so much soul. He isn't living off the fumes or highs of past rock greatness, but as he said in one interview, he and his band want to make the next gig a bit better than the last one.
Who knows? Richards might never quit playing given his pursuit of getting better. If that is so, perhaps it will be quite a long time before he dies. As the title of a 2002 Rolling Stone magazine interview with him reads, "Will Keith Richards Bury Us All?" Now, if that is the case, perhaps we need to consider what kind of world we are going to leave for Richards, as my friend Jordan Andlovec quipped in a tweet. Sobering… How often do we try to get better rather than get by? How often do we express gratitude for the opportunity to live and play another day? How often are we honest with others and ourselves? So, if we outlive 2016, perhaps we can learn a few things from Richards. Perhaps, then, we will leave the world a more livable and believable place.