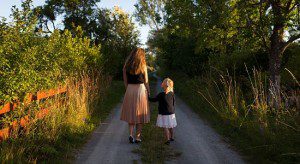 Mother's Day has become one of the most commercialized and lucrative holidays on record. According to a Washington Post article, the inventor of Mother's Day, Anna Jarvis, would be irate to know that "Mother's Day has become one of the most profitable U.S. holidays, with annual spending steadily growing since 2006. This year, consumers are expected to spend a record high of $23.6 billion, according to the National Retail Federation." If mothers were to reap the financial rewards for the holiday, perhaps the late Jarvis (1864-1948) would feel differently. But they don't. Rather, they bear so much of the cost for raising children, and without accompanying fame and fortune. I doubt many mothers are looking for fame and fortune, though, just their children. Mother's Day may be very profitable. But you cannot buy a priceless mother's costly love.
Mothers' parental instinct and love for their children is mysterious and cannot be measured or commodified. Certainly, one hears horror stories of mothers abandoning or harming their children. These stories are unimaginable given that they fly in the face of what many of us take to be the norm. What is the norm? The norm is long-suffering love, which even involves going to the extreme of caring for children who do not return the affection and who reject motherly care. This long-suffering love and longing for their wayward children is reflected in Jesus' own sense of God's care for his people, his spiritual children: "O Jerusalem, Jerusalem, the city that kills the prophets and stones those who are sent to it! How often would I have gathered your children together as a hen gathers her brood under her wings, and you were not willing!" (Matthew 23:37; ESV).
My mother has never demanded of me affection, but has always given it freely. Though her frame is marked by the passing of nine decades, her love never grows tired or gets old. She has taught me a thing or two of what is entailed by 1 Corinthians 13:4-7: "Love is patient and kind; love does not envy or boast; it is not arrogant or rude. It does not insist on its own way; it is not irritable or resentful; it does not rejoice at wrongdoing, but rejoices with the truth. Love bears all things, believes all things, hopes all things, endures all things" (1 Corinthians 13:4-7; ESV).
I have yet to come to terms with the depth of my mother's care for her children, which to my shame, I have often taken for granted, and even rejected at points when I was a teen. And yet, she never gave up on me. As long as God gives her breath, she will exhale faith, hope, and love. Her love will continue on in my memory, even as it participates in God's eternal designs: faith, hope and love remain; and the greatest of these is love (1 Corinthians 13:13).
My mother and countless other moms reflect God's undying love, and also play such a vital role in humanity's survival. Their pain does not end at childbirth, as they pour out their love for their children who often take them for granted and who sometimes turn their backs on them. In addition to expressing gratitude to them for their selfless care on Mother's Day and beyond, we can model their affection as we relate to one another throughout the year.
Let's not allow fame and fortune and the commodification of human identity–including on Mother's Day–to stand in the way of caring for one another in sacrificial terms. Even when people reject our care and consideration, let's keep reaching out in view of how our Mothers have reached out to us in long-suffering ways. Happy Mother's Day.