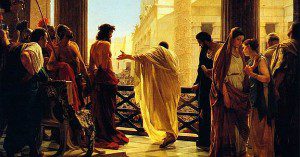 "Blessed are the meek, for they shall inherit the earth." (Matthew 5:5; ESV)
John practices law and is a practicing Christian. Some might wonder how "practices law" and "practicing Christian" can go together in the same sentence, but John's story reveals that they can.
John was involved in a mediation proceeding with a former client based on a conflict between his law firm and this former client that dated back several years. John and his team sat in one room, and the other party and his lawyer sat in another. The mediator went back and forth asking questions to probe for veracity and to try and uncover inconsistencies in their respective testimonies.
John had asked me privately to pray for the mediation. The process can take numerous hours and be very draining. John had also shared that the client (whose name he did not offer) had given a very misleading and distorted account of the conflict for several years. The mediation would make it possible to set straight the record.
The day's proceedings were not going well. It seemed as if the tensions were only intensifying, as the two sides gave very different accounts to the legal mediator. However, late in the day, a breakthrough occurred. The former client came to an understanding that it would be in their best interest to settle and desist with the accusations which John says were unfounded charges.
After it was all said and done, John's colleagues turned to John and asked him how he had prayed for the proceedings. They knew John was a Christian, and that he had prayed in preparation for the mediation. John responded by saying that he had prayed God's blessings on the former client prior to and during the proceedings, and that they would discern what is true and just. John's colleagues were surprised that he had not prayed for the other party's demise, or that John and his team would win. A prayer for blessing and discernment of truth and justice was all John prayed.
The moral of the story is not that those who pray meekly inherit the earth now. A similar mediation might go the other way. One never knows. But according to Matthew 5:5, the meek will someday inherit the earth. John shared with me that if he does not forgive his enemies and pray God's blessings on them, he cannot experience God's peace. What earth would he inherit if he does not operate at every turn in meekness, gentleness and humility, but instead oversteps his bounds and plays God? One injustice would simply replace another. It is important to make one's case, but still entrust everything to the Almighty. It is God's place to judge, not John's, yours, and mine. As Jesus says elsewhere in the Sermon on the Mount,
You have heard that it was said, "You shall love your neighbor and hate your enemy." But I say to you, Love your enemies and pray for those who persecute you, so that you may be sons of your Father who is in heaven. For he makes his sun rise on the evil and on the good, and sends rain on the just and on the unjust. For if you love those who love you, what reward do you have? Do not even the tax collectors do the same? And if you greet only your brothers, what more are you doing than others? Do not even the Gentiles do the same? You therefore must be perfect, as your heavenly Father is perfect" (Matthew 5:43-48; ESV).
Must not those who practice Christianity like John, an attorney at law, pursue justice in the same way as their Lord? Yes, Jesus will judge the nations (Matthew 25:31-33), but he lived daily in a spirit of meekness, gentleness, and humility. We who call him Lord must do the same.
A Few Questions for Readers: How would you have prayed if you were in John's shoes? Are there other kinds of prayers that one could offer concerning the other party in the mediation? What biblical support would you offer for your approach to prayer in this or a similar case? Readers are also encouraged to read the biblical meditation titled, "'Blessed Are The Meek'—Not Those Who Are Easily Provoked."