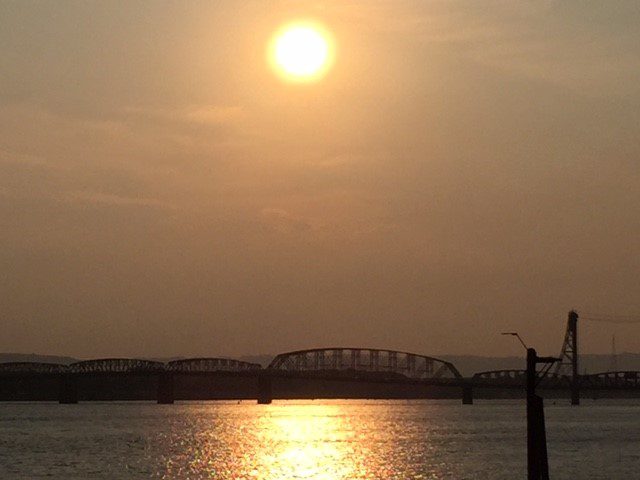 Who do you trust? The White House? Congress? The Courts? The Media? The TV news meteorologist? Your spouse? Your boyfriend or girlfriend? Your parents? Your children? Your siblings? Your friends? Your neighbors? Your boss and coworkers? Your dog and cat? Your favorite musician or sports team's general manager? Your plumber, electrician, doctor, dentist, mechanic, and accountant? Your pastor or priest? God? The Church? Yourself? The list goes on and on, and crosses over every domain of life. Bridges of relational trust are all-important. It's so hard to function in life and society without them. We need to build, preserve, and restore them.
Last night, my wife and I celebrated our twenty-seventh wedding anniversary with this bridge crossing the Columbia River from Portland, Oregon to Vancouver, Washington in the background. As the sun set, we reflected upon life together over the years, and on our experiences yesterday. We recounted a situation in which someone broke relational trust with us, and were sobered by how costly that can be. It made us more conscious of the need to build, preserve and restore bridges of relational trust. When those bridges are destroyed, what's left? There's no way of crossing the divide until they're restored.
In a society that places much value on economic viability and fame, it is easy to lose sight of the fact that those things can never replace trust. People can be rich and famous and powerful, but if they (or we) are not faithful, the accumulation of wealth, fame and power will collapse under the weight of their (or our) lack of integrity. My earthly father was not rich or famous by the world's standards, but he was rich in faithfulness and integrity in his dealings with his wife, his children, and others. I hold him in the highest regard in my memory. Though he's passed from this life, I don't take him for granted (though I used to do so). I hope to follow in his footsteps and build and preserve bridges of faithfulness and integrity.
We tend to take for granted the bridges we cross on our way to work each day. We have confidence that they will hold under the pressure of all the traffic. In Bridgetown (Portland, OR), where I work, there's a lot of 'taking-for-granted' going on as people cross bridges around the city and to and from the city all the time. And yet, if those responsible for the bridges' upkeep don't remain vigilant, preserve and restore them, trust will wane as those bridges decay. It's this way with any situation in life, including marriages, family and work relationships, political and business dealings, and beyond. We should never take for granted people's trust in us, but do everything possible to build, preserve, and restore it.
In closing, here are some verses from the Bible that address faithfulness and integrity's importance, as well as the need to pursue reconciliation for the sake of relational trust and wholeness. The Bible has a lot to say about the subject. It is vitally important we get to work on building, preserving and restoring relational bridges. Don't let the sun go down without taking inventory:
Better is a poor man who walks in his integrity than a rich man who is crooked in his ways (Proverbs 28:6; ESV).

Whoever walks in integrity walks securely, but he who makes his ways crooked will be found out (Proverbs 10:9; ESV).

Whoever goes about slandering reveals secrets, but he who is trustworthy in spirit keeps a thing covered (Proverbs 11:13; ESV).

He who commits adultery lacks sense; he who does it destroys himself (Proverbs 6:32; ESV).

Lying lips are an abomination to the LORD, but those who act faithfully are his delight (Proverbs 12:22; ESV).

May integrity and uprightness preserve me, for I wait for you (Psalm 25:21; ESV).

But I discipline my body and keep it under control, lest after preaching to others I myself should be disqualified (1 Corinthians 9:27; ESV).

Show yourself in all respects to be a model of good works, and in your teaching show integrity, dignity (Titus 2:7; ESV).

So flee youthful passions and pursue righteousness, faith, love, and peace, along with those who call on the Lord from a pure heart (2 Timothy 2:22; ESV).

If a man vows a vow to the Lord, or swears an oath to bind himself by a pledge, he shall not break his word. He shall do according to all that proceeds out of his mouth (Numbers 30:2; ESV).

But whoever keeps his word, in him truly the love of God is perfected. By this we may know that we are in him (1 John 2:5; ESV).

Why do you call me "Lord, Lord," and not do what I tell you? (Luke 6:46; ESV).

For the word of the LORD is upright, and all his work is done in faithfulness (Psalm 33:4; ESV).

The steadfast love of the Lord never ceases; his mercies never come to an end; they are new every morning; great is your faithfulness (Lamentations 3:22-23; ESV).

If we are faithless, he remains faithful— for he cannot deny himself (2 Timothy 2:13; ESV).

If we confess our sins, he is faithful and just to forgive us our sins and to cleanse us from all unrighteousness (1 John 1:9; ESV).

If possible, so far as it depends on you, live peaceably with all (Romans 12:18; ESV).

Strive for peace with everyone, and for the holiness without which no one will see the Lord (Hebrews 12:14; ESV).

Therefore, having put away falsehood, let each one of you speak the truth with his neighbor, for we are members one of another. Be angry and do not sin; do not let the sun go down on your anger, and give no opportunity to the devil (Ephesians 4:25-27; ESV).

So if you are offering your gift at the altar and there remember that your brother has something against you, leave your gift there before the altar and go. First be reconciled to your brother, and then come and offer your gift (Matthew 5:23-24; ESV).

Therefore, confess your sins to one another and pray for one another, that you may be healed. The prayer of a righteous person has great power as it is working (James 5:16; ESV).

O Lord, who shall sojourn in your tent? Who shall dwell on your holy hill? He who walks blamelessly and does what is right and speaks truth in his heart; who does not slander with his tongue and does no evil to his neighbor, nor takes up a reproach against his friend; in whose eyes a vile person is despised, but who honors those who fear the Lord; who swears to his own hurt and does not change; who does not put out his money at interest and does not take a bribe against the innocent. He who does these things shall never be moved (Psalm 15; ESV).