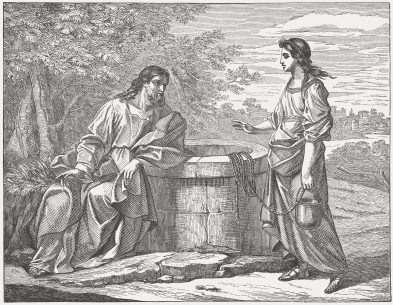 No doubt you are aware of the recent wave of articles on allegations that movie magnate Harvey Weinstein was guilty of sexually mistreating numerous women over many years. But how truly aware are you and I that the problem is not isolated to the movie industry? It is a widespread problem that intersects every sector of society. We still live in a patriarchal society that often caters to and condones the abuse and disregard of women. Areas of ongoing concern include sexual misconduct, domestic violence, and inequities in the workplace.
The problem also extends to how we often read the Bible. For example, I used to think that the woman at the well in John 4 was rather loose. After all, she had had five husbands, and the man she was now with was not her husband. But there are several items to consider why she might have had five husbands and why the man with whom she now lived was not her husband. She may have been divorced by her husbands for improper reasons and/or widowed several times. In her present situation, she may have been a concubine or a second wife (not uncommon). Regarding the possibility of divorce, women back then did not have significant access to legal recourse, and would have been even more vulnerable to possible abuse outside of marriage. Initiating divorce would not have been the easiest or safest course of action for a woman much of the time. Why not think the woman at the well was the victim of loose or degenerate men rather than being a moral degenerate herself? Another item is worthy of consideration. Just because the woman came to the well during the heat of the day, it does not necessarily imply she was a social outcast. There is no evidence in the Greco-Roman world to suggest moral women went to draw water early in the day and degenerate women in the heat of the day. Furthermore, Jesus never told her to go and sin no more, as he did in the case of the woman caught in adultery recorded in John 8. Moreover, the people from her village came out to meet Jesus based on the women's testimony. They must have taken her to be a credible witness given that they took to heart her praise of Jesus (Further to these points on the account in John 4, refer here, specifically pages 122-129). Other instances could be cited. Much work needs to be done to account for more accurate readings of the Bible regarding the identity, roles and significance of women. With this point in mind, I am indebted to my colleague Carolyn Custis James for her fine work on Ruth and other women in the Bible.
It is not simply a matter of the abuse of women, or of the abuse of the Bible with interpretations that place women in less than a favorable light. It is also a matter of affirming women in their abilities and vital contributions in the church, the home, and society at large. Take for example the church. How often have decisions been made in churches where women's perspectives have not been sought? How can we think that we have discerned the mind of God's people if we have accounted for the views of only half or less than half of the church? Jesus engaged in thoughtful and sustained conversation with the woman at the well. He was thirsty and in need of her help. He asked her for a drink of water (though Jews did not associate with Samaritans or share things in common with them, according to John 4:9). Whereas Nicodemus came to Jesus at night (John 3:1-21), this woman spoke to Jesus in the light of day. Whereas many serious scholars of religion were blind to Jesus, this woman perceived that he is the Messiah (perhaps even sooner than some of his disciples) and became one of the first evangelists in the gospels. Far from showing signs of hardness of heart and a lack of moral scruples, the woman at the well was one of the most honest and keen interlocuters in exchanges with Jesus. We all could learn a lot from this woman—and from so many countless women today. Those of us who are men need their voices. Will we listen? And will we speak out in support of them against abuse and in affirmation of them as equals as fellow humans and as fellow leaders?