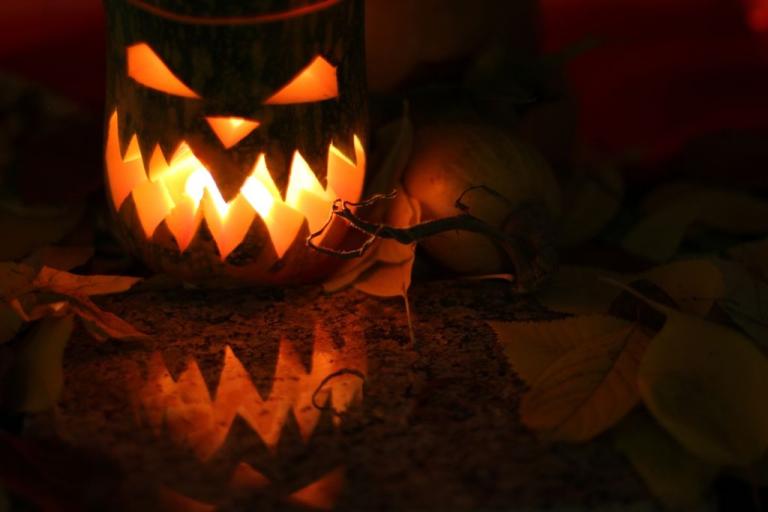 Many Christians express fears over Halloween given concerns over evil spirits.[1] But how about the Holy Spirit? After all, the Spirit is the Holy Ghost! Years ago, when my children were quite small, one of them said to me at bedtime, "Daddy, will you protect me from the Holy Ghost?" I had to explain to my child that the Holy Ghost was not an evil spirit, but the Holy Spirit of God and Jesus. Whether my brief theological meditation quenched my child's fears that night, our confidence in God in Christ through the Spirit should shape our hearts and imaginations to quench ungodly fears and fill us with God's love. This should happen on Halloween, and also during dark seasons in our lives throughout the year.
According to a traditional take on the authorship of 2 Timothy, Paul wrote the epistle from a prison cell during his second and final Roman imprisonment. Soon he would be martyred for the faith. And yet, during this harrowing ordeal, he wrote: "for God gave us a spirit not of fear but of power and love and self-control" (2 Timothy 1:7; ESV). I maintain that an imperfect love is cast out by fear, but a perfect love—and the Spirit of perfect love—casts out fear. Paul understood that, and experienced the Spirit of love, not the spirit of fear.
We are to test the spirits, and take comfort from the fact that God has given us his Spirit who bears witness to Jesus—God in the flesh (1 John 4:1-3, 13; ESV). This Spirit is the one through whom God's love is poured out into our hearts (Romans 5:5). Thus, in light of the fact that the love of God is poured out into our hearts through the Spirit (Romans 5:5), we should not be surprised that in the very same chapter of 1 John noted above, the writer speaks of God giving us his Spirit through whom we are to test the spirits. The Spirit of God—the Holy Spirit or Holy Ghost—has not given us a spirit of fear, but perfect love. As 1 John 4:18 reads, "There is no fear in love, but perfect love casts out fear. For fear has to do with punishment, and whoever fears has not been perfected in love" (1 John 4:18; ESV).
The Spirit certainly helps us discern spirits of falsehood from the truth of God's Word (1 John 4:1-3). The Spirit helps us take to heart the all-important truth that Jesus is God's embodied love (See 1 John 4:1-21). Do not fear his punishment, but gratefully embrace his mercy and live lives pleasing to God. God's love precedes and fosters true and honorable fear in relation to God's gracious gift of Jesus in the Spirit so that we earnestly and gratefully desire to please God. In contrast, fear of punishment does not lead to love or awareness of Jesus' powerful, life-giving presence in the Spirit.
In view of the Spirit of Jesus, what do you have to fear of evil spirits, no matter what time of year? If God is for us, who can be against us? (See Romans 8) The evil spirits fear Jesus. Jesus does not fear the evil spirits, as recorded in Scripture (See Luke 8:26-39). So as Jesus' followers, what do you have to fear except fear itself?
Don't allow the fear or worries and cares associated with daily life to come in and choke the Word so that it fails to bear mature fruit (Luke 8:14). Don't fear the raging storm (Luke 8:22-25). Don't fear the man possessed by the demons named Legion, or the demon itself (Luke 8:26-39). Don't fear the 'impure' woman with the issue of blood (Luke 8:43-48). In each situation, look to Jesus and his embodied love, to whom the Spirit bears witness. The perfect, holy love of God's Son in the Spirit casts out fear.
Remember that the Holy Ghost or Holy Spirit does not give us a spirit of fear, but one of power, love, and self-control (2 Timothy 1:7). Be sure to discern if the fears we have are those related to reverencing and honoring God, or some other motive at Halloween and beyond. Be very discerning and consider if we are responding to the prompting of the Holy Spirit, who ministers the holy love of God to our souls. After all, perfect love which the Spirit mediates casts our fear. So, who do you have to worry about? Certainly not the Holy Ghost, who ministers the holy love of God to our souls. Don't worry. Be loving—the Holy Spirit's way.
_______________
[1]Refer here for another blog post with embedded links to other sources on Halloween and its historical roots, present associations, and possible import.