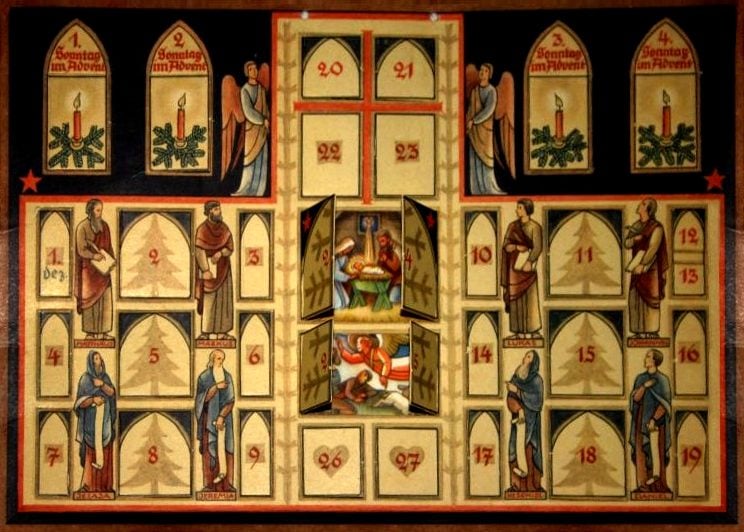 The Christian calendar year begins today with the first Sunday of Advent. Advent's Latin root means "coming" or "arrival," and signifies Jesus' coming to earth. In addition to celebrating Jesus' appearance at his first advent, we await his second advent, when he will judge the nations and reconcile all things to God.
Often, the first week of Advent draws attention to the prophetic expectation of the Messiah's appearance. The first candle of the Advent wreath is often referred to as the Prophecy Candle or Prophet's Candle. It symbolizes hope related to those who first spoke of the Messiah's coming into the world.
Matthew's Gospel references various texts from the Hebrew Scriptures that the New Testament community believed were prophetic utterances fulfilled in Jesus. Here are two such texts:
"Behold, the virgin shall conceive and bear a son, and they shall call his name Immanuel" (Matthew 1:23; ESV; see also Isaiah 7:14).

"And you, O Bethlehem, in the land of Judah, are by no means least among the rulers of Judah; for from you shall come a ruler who will shepherd my people Israel" (Matthew 2:6; ESV; see also Micah 5:2, which reads in full: "But you, O Bethlehem Ephrathah, who are too little to be among the clans of Judah, from you shall come forth for me one who is to be ruler in Israel, whose coming forth is from of old, from ancient days").
From the Gospel of Matthew's vantage point, the New Testament community is not alone in anticipating Jesus' coming. The saints of old also longed for his appearance. Here is how 1st Peter presents the prophets in their inquiry and longing for the Messiah's arrival:
"Concerning this salvation, the prophets who prophesied about the grace that was to be yours searched and inquired carefully, inquiring what person or time the Spirit of Christ in them was indicating when he predicted the sufferings of Christ and the subsequent glories. It was revealed to them that they were serving not themselves but you, in the things that have now been announced to you through those who preached the good news to you by the Holy Spirit sent from heaven, things into which angels long to look" (1 Peter 1:10-12; ESV).
The prophets did not see with their own eyes what they prophesied, nor did other saints who longed for the coming of the promised Messiah. Hebrews 11:39-40 reads of the saints of old who longed for the fulfillment of the promised inheritance in Christ, "And all these, though commended through their faith, did not receive what was promised, since God had provided something better for us, that apart from us they should not be made perfect."
I marvel at these Old Testament saints for their tenacity, resilience, and patience. The same goes for the New Testament saints who were undergoing extreme suffering, even persecution. Such was the context of 1st Peter and Hebrews. Like the saints of old, they were awaiting the fulfillment of the ages, when the Messiah will make all things new.
We wait for Jesus' appearing today. Or do we? In view of the seemingly eternal delay, have we moved on to entertain other "messiahs," other plans, and hopes? The times in which we live make it increasingly difficult to wait. In our quick fix and instant gratification culture, it is getting increasingly taxing by the day to wait. High-speed Internet can easily lead to high-speed spirituality, where everything is now. Thus, it is all the more important that we slow down and re-frame our imaginations in honor of Jesus' story. We should ask ourselves, no matter our background or context, "When Jesus returns to earth, will he find long-suffering faith, or only casual religious browsers surfing the web at a high-speed?"
The advent season helps us re-frame our imaginations and expectations. As with the church throughout the centuries, as well as with the Hebrew saints of old who longed for the Messiah's appearance, we anticipate the long-awaited deliverer and live now in view of his coming.
The author of Hebrews would tell us the best is yet to come, as he encourages his readers to wait patiently and encourage one another—and all the more—in the communion of the saints as the day of Jesus' re-appearing advances (Hebrews 10:24-25). But can we wait? Moreover, if we do wait rather than look elsewhere for satisfaction, how will we make the most of our time? John Henry Newman addressed the subject of waiting in a homily for Advent:
"Advent is a time of waiting, it is a time of joy because the coming of Christ is not only a gift of grace and salvation but it is also a time of commitment because it motivates us to live the present as a time of responsibility and vigilance. This 'vigilance' means the necessity, the urgency of an industrious, living 'wait'. To make all this happen, then we need to wake up, as we are warned by the apostle to the Gentiles, in today's reading to the Romans: 'Besides this you know what hour it is, how it is full time now for you to wake from sleep. For salvation is nearer to us now than when we first believed' (Rm 13:11)."
We wait by being industrious and active in participating in Jesus' mission through his Spirit. Jesus will consummate his kingdom when he returns, but we are participants in that kingdom which he inaugurated during his first advent. Thus, the Lord is already here, as we actively wait by living out his will here and now to love God with all our hearts and our neighbors as ourselves, just as he taught and modeled for us. So, we await his coming by living for him, even by living for others. Advent is a time to remember and reenact Jesus' story. Come, Lord Jesus, come!