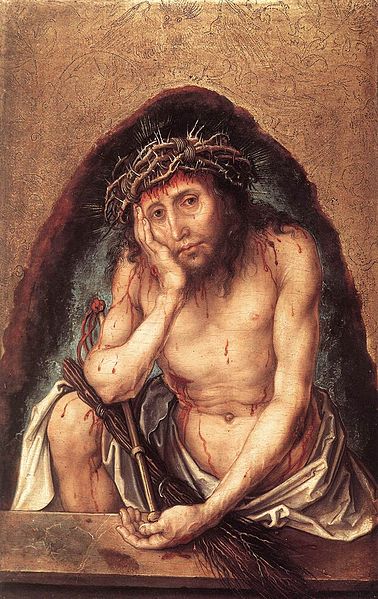 Isaiah 53:3 reads, "He was despised and rejected by men, a man of sorrows and acquainted with grief; and as one from whom men hide their faces he was despised, and we esteemed him not" (ESV). The suffering church throughout the ages has claimed that this text finds its ultimate fulfillment in Jesus of Nazareth. But how about our age? Do we take comfort in the ultimate man of sorrows? Or does the power of positive thinking Christianity stand in the way of our coming to terms with Jesus in all his emotional depth, breadth, and complex experience?
A student of mine named Melody experienced a major stroke several years ago. It has taken years for her to recover from this life-altering ordeal. Although young, Melody is wise beyond her years. Upon reflecting on my last blog post titled "'Blessed Are Those Who Mourn.' But Why?" she shared the following words:
This beatitude challenges those who live comfortable lives, who throughout history tend to look down on the poor and suffering. In their condescending attitude, they wrongly think it was God who caused those who mourn to suffer, or that God doesn't care about them. To the contrary, God is near those who are brokenhearted.

Mourning is certainly a means for people today to relate to Jesus, who is the man of sorrows familiar with suffering (Isaiah 53:3). That being said, we must safeguard against making an inherent connection between mourning and godliness. We must also guard against the opposite equation: joy is not inherently connected to godliness. God is near those who mourn just as much as those whose 'cup overflows'. As one who has mourned deep losses, this has always been a (theological, not always emotional) comfort to me.
This beatitude (found in Matthew 5:4) debunks the notion that all those who suffer are being 'punished' or 'taught a lesson' for sin.
If we can come to terms with Jesus as the man of sorrows (Isaiah 53:3), perhaps we can come to a point in our church circles where we not only rejoice robustly with those who rejoice, but also mourn deeply with those who mourn (Romans 12:15). Perhaps we would give ourselves permission not to have to exhort people to quickly discard their struggle with grief, sorrow and discouragement, and immediately think happy thoughts. Perhaps when we ourselves are honest about our own emotional struggles and mourn, truly mourn, just like Melody, we will provide theological and possibly even emotional comfort to others. Just maybe, they will then be better able to grieve well and enter more fully into the comfort that Jesus, the man of sorrows, offers: "Blessed are those who mourn, for they shall be comforted" (Mt. 5:4; ESV).