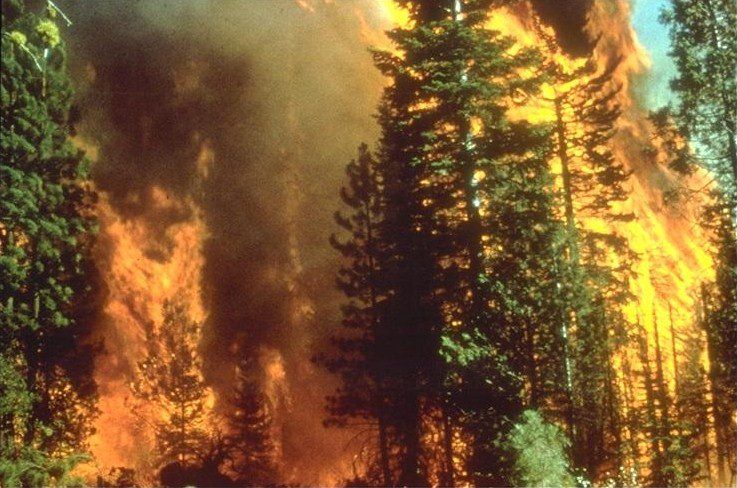 Fear rages like a consuming fire. Unimaginable natural disasters strike close to home–or even closer, as has been true for some of my friends in California. Over sixty people have been found dead and over six hundred are missing on account of the terrorizing blaze. Will the firefighters ever be able to extinguish the flames, or will the fire keep running wild like our rampant worry?
While some experience natural disasters, others experience the horrors of mass shootings. Given their frequent mention in the headlines, one might wonder if the time will come when such news items will be as common as the daily weather updates.
A car wreck. A devastating medical report. The list goes on and on.
In no way should we cater to fatalistic thinking in which we resign ourselves to a doom and gloom mentality that whatever could go wrong will go wrong.  We must make every possible cautionary measure to safeguard against tragedy without allowing fear and worry to seize our imaginations and drive us crazy.
This is where I find comfort in Jesus' words recorded in the Sermon on the Mount in Matthew chapter six:
25 Therefore I tell you, do not be anxious about your life, what you will eat or what you will drink, nor about your body, what you will put on. Is not life more than food, and the body more than clothing? 26 Look at the birds of the air: they neither sow nor reap nor gather into barns, and yet your heavenly Father feeds them. Are you not of more value than they?27 And which of you by being anxious can add a single hour to his span of life? 28 And why are you anxious about clothing? Consider the lilies of the field, how they grow: they neither toil nor spin, 29 yet I tell you, even Solomon in all his glory was not arrayed like one of these. 30 But if God so clothes the grass of the field, which today is alive and tomorrow is thrown into the oven, will he not much more clothe you, O you of little faith? 31 Therefore do not be anxious, saying, 'What shall we eat?' or 'What shall we drink?' or 'What shall we wear?' 32 For the Gentiles seek after all these things, and your heavenly Father knows that you need them all. 33 But seek first the kingdom of God and his righteousness, and all these things will be added to you. 34 Therefore do not be anxious about tomorrow, for tomorrow will be anxious for itself. Sufficient for the day is its own trouble. (Matthew 6:25-34; ESV)
I can't add a single hour to my life by worrying about it, nor can you. All I can add are gray hairs and ulcers as a result of worry. So what good does it do? While Jesus doesn't promise to remove us from all difficult circumstances and protect us from experiencing all harm (See Matthew 10:16-33 for example), he does secure our eternal future as we trust in him. Our time and destiny are in Jesus' hands.
We can take comfort from knowing that Jesus did not avoid struggle or abandon his followers in difficult times. In fact, Jesus went through even greater travail than any of them, or us. As much as God cares for the birds of the air and lilies of the field, he cares about us far more.
We don't know the future, but God does. God also knows our various needs. Since we do not know the future, let's set aside our anxieties about tomorrow. As Jesus said, each day has enough trouble of its own (Matthew 6:34). Such good advice. But will we allow it to sink in, or will we fret our lives away?
Let's extinguish fear and worry with a heavy dose of God's sovereign love and eternal wisdom.