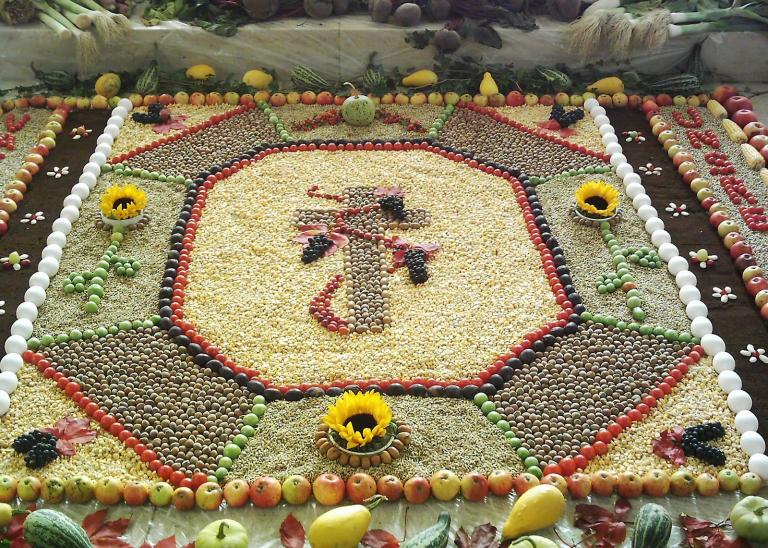 Thanksgiving is not simply a holiday, but a way of life that should carry on throughout the year. Or at least it should be. Here I think of Psalm 23, which is attributed to David. Here we find the psalmist marveling at God's mercy and goodness. Although he walks through the valley of the shadow of death (Psalm 23:4), and though he is being pursued by his enemies, he is ever mindful of God's goodness to him. In fact, he goes so far as to say that his cup overflows:

You prepare a table before me
    in the presence of my enemies;
you anoint my head with oil;
    my cup overflows. (Psalm 23:5; ESV)
There are those of us who look at life as a cup half empty and those of us who look at life as a cup half full. This psalmist looks at life at this point in his sojourn as a cup that overflows. How do you and I look at life in the midst of various challenging circumstances? Let me just say that I wish I had this psalmist's perspective more often. But why? The rest of this post will seek to answer this question.
Giving thanks and being grateful does not deny present challenges, but puts them in a larger context that makes them more manageable to address. The psalmist does not deny his extreme circumstances: his enemies want to crush him. But God is for him. And as we are told elsewhere in Scripture, if God is for us, who can be against us? In Romans 8, the Apostle Paul writes,
What then shall we say to these things? If God is for us, who can be against us? He who did not spare his own Son but gave him up for us all, how will he not also with him graciously give us all things? Who shall bring any charge against God's elect? It is God who justifies. Who is to condemn? Christ Jesus is the one who died—more than that, who was raised—who is at the right hand of God, who indeed is interceding for us. Who shall separate us from the love of Christ? Shall tribulation, or distress, or persecution, or famine, or nakedness, or danger, or sword? As it is written,

"For your sake we are being killed all the day long;
    we are regarded as sheep to be slaughtered."

No, in all these things we are more than conquerors through him who loved us. For I am sure that neither death nor life, nor angels nor rulers, nor things present nor things to come, nor powers, nor height nor depth, nor anything else in all creation, will be able to separate us from the love of God in Christ Jesus our Lord. (Romans 8:31-39; ESV)
Paul certainly faced his fare share of extreme challenges, from shipwrecks to floggings to hunger to homelessness and beyond (See 2 Corinthians 11:23-29). Eventually, he would be killed for his faithful service to Jesus Christ. But no matter his circumstances, he never lost hope. He remained grateful in the midst of very trying circumstances, for he knew God was with him.
The Apostle Paul is not alone. A young lady named Ana was severely injured in a head-on, hit and run automobile accident in mid-October last year. Ana has slowly proceeded from critical condition to rehabilitation. Ana was asked what she was thankful for at Thanksgiving a year ago. Her response to the question? "God."
My wife once shared with some friends with whom she faced some imposing challenges that she would not allow their circumstances to undermine her confidence in God or rewrite the script of her life. Quoting Psalm 23, she said, "My cup overflows."
The psalmist, Paul, Ana and my wife did not deny the grave situations and challenges they faced. But they did not allow their circumstances to define or defy them, or their God. The final chapter to life did not come to a close for them in the face of their trials. Indeed, even at the end of life, the final chapter is not written. It reminds me of the story of the German pastor and theologian Dietrich Bonhoeffer. He had just finished conducting a worship service for his fellow prisoners at the camp where he was held. The Nazis came to escort him away to be capitally punished for his participation in the failed assassination attempt on Adolf Hitler. Before departing with his captors for his execution by hanging, he said to his fellow prisoners, "This is the end —but for me, the beginning — of life." Within days of his death, Germany was liberated from Hitler and Nazi rule.
Thanksgiving in the United States is not a Christian holiday, but a national holiday inaugurated by President Abraham Lincoln in 1863. Many people might find it hard to imagine that Lincoln would find cause to give thanks to God in the midst of the horrors of a civil war that raged throughout the country. If anything, it might help Americans today–even the day after Thanksgiving–to look beyond their trying circumstances involving the culture wars and other tensions and horrors and realize that hope springs eternal. Ultimately, Thanksgiving is not a holiday in the U.S. or in other countries where harvest festivals occur, but a way of life.