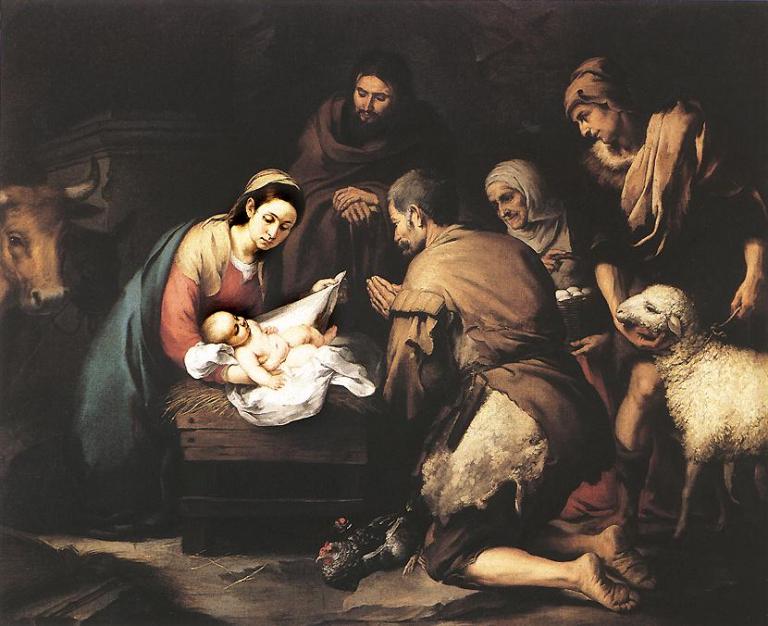 Jesus declared, "Blessed are the meek, for they shall inherit the earth" (Matthew 5:5; ESV). Sometimes statements like this beatitude in the Bible are so familiar to us that we no longer take to heart their meaning. Beatitudes easily become platitudes. We must come to terms with the fact that this declaration on meekness was as foreign in Jesus' day as it is in our own. All too often, people manifest strength out of control with bravado and gusto. In contrast, Jesus' birth—indeed his entire life—defines and exemplifies divine meekness. Here we find divine power, which is gentle, strength under control.
God takes every ounce of divine strength and energy and wraps it around Jesus lying in a manger. Here's Luke's account of events surrounding Jesus' birth:
And in the same region there were shepherds out in the field, keeping watch over their flock by night. And an angel of the Lord appeared to them, and the glory of the Lord shone around them, and they were filled with great fear. And the angel said to them, "Fear not, for behold, I bring you good news of great joy that will be for all the people. For unto you is born this day in the city of David a Savior, who is Christ the Lord. And this will be a sign for you: you will find a baby wrapped in swaddling cloths and lying in a manger." And suddenly there was with the angel a multitude of the heavenly host praising God and saying, "Glory to God in the highest, and on earth peace among those with whom he is pleased!" (Luke 2:8-14; ESV).
How startling these words from Matthew 5 and Luke 2 should ever remain to us! Whereas the Pax Romana (peace of Rome) used violence to bring peace to the ancient world, the Pax Christi (peace of Christ) has always employed gentleness from the cradle to the cross to 'enforce' peace.
Speaking of violence and gentleness, we could use a whole lot more meekness as we approach the 12 days of Christmas. Just think for a moment about "10 days, 4 hate crimes: The parallel paths of 4 angry men who terrorized America" days before the midterm elections. Just think about the road rage that we witness on American highways and bi-ways. Just think about those incidents where people push and shove to get that last Christmas sale item on Black Friday or one step ahead in the checkout line (Refer here and here). Just think about the violence and hostility in our own hearts…
Let's do more than just think about the divine meekness that Jesus demonstrates in his birth, indeed, in his entire life. Let's act on it by constraining and employing our own strength, gently placing it under control. Frederick Dale Bruner reflects upon the quality of meekness on display in Jesus and how it bears upon Jesus' community of disciples today:
Jesus himself is the best definition of meekness, particularly at his trial (Matt 26–27). We do not exactly see weakness there, but we do not see many claims there either, and not a great deal of aggression. The overall impression of Jesus on trial is an impression of poise. It is the poise of not having to assert oneself. It is the poise, if I may put it this way, of a believer. There is a meekness that is almighty and a gentleness that is strong. In a world threatened by terrorist holocaust macro-cosmically and by the destruction of the family microcosmically, the great need of the age may be this Beatitude's gentle-men and gentle-women. The Third Beatitude's little people may well be the hope of the earth, though the rest of the world tells us that the real hope of the earth is the big people and the earth shakers.[1]
May we be this beatitude's gentle-men and gentle-women. They reflect Jesus' heart and life and will inherit the earth (Matthew 5:5).
By no means a platitude, like the other beatitudes recorded in Matthew 5, meekness is intended to be lived out, not simply thought about. As I have written elsewhere,
Far from being overused, no longer interesting and meaningful, the Beatitudes are underused. They are not Nietzschean dead metaphors or well-worn, outgrown ethical platitudes. Often, the Beatitudes are not accounted for and applied because they are found to be all-too striking, mind-blowing, and hard. It reminds me of G. K. Chesterton's claim: "The Christian ideal has not been tried and found wanting. It has been found difficult; and left untried.'[2] If only we would dare try them on for size!"[3]
Yes, may we try Jesus on for size and wrap ourselves in meekness, just as God's power was wrapped in gentleness, lying in a manger.
For more on my work on the Beatitudes, see my recent book Beatitudes, Not Platitudes: Jesus' Invitation to the Good Life, and you can see some interviews I did about the book here and here.
_______________
[1]Frederick Dale Bruner, Matthew: A Commentary. Vol 1: The Christbook, Matthew 1–12. Rev. and exp. ed. (Grand Rapids: Eerdmans, 2004), page 161.
[2]G. K. Chesterton, What's Wrong with the World, Reprint. (San Francisco: Ignatius, 1994), page 37.
[3]Paul Louis Metzger, Beatitudes, Not Platitudes: Jesus' Invitation to the Good Life (Eugene: Cascade Books, 2018), pages 1-2.