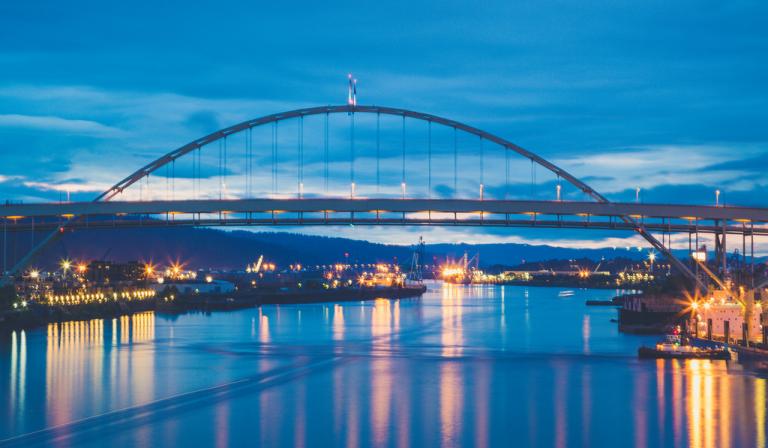 John Rosensteel is Lead Pastor of New Hope Church in Portland, Oregon. I reached out to John to interview him regarding his work as pastor and how he and his church minister in their community. This interview is part of a series dedicated to pastoral-missional endeavors here at this column.
Paul Louis Metzger (PLM): John, you served as a pastor in Madison, Wisconsin before coming to Portland, Oregon. What are some of the unique pastoral and missional challenges you have faced in each city?
John Rosensteel (JR): Madison, WI is known as a progressive city. It has been called the Berkeley of the Midwest. I found this to be true. It is relatively small city dominated by government and a large university. Madison is a highly educated community. It has more post graduate degrees per capita than any city in America. I served in Madison at the same church for 17 years. During that stretch the church grew rapidly. I believe that one of the reasons for that growth was our philosophy of ministry. Historically, churches in Madison leaned progressive or very conservative. Our church sought to maintain orthodoxy and a rootedness in Jesus while attempting to love and serve the city. We fostered an excellent partnership with the university and the city as we pursued the common good.
When God made it clear he was leading us out of Madison we felt it was important to serve in a city that was similar to Madison. We wanted to steward what we had learned. Portland reflects a lot of the same challenges and opportunities. We are grateful that there are so many churches in Portland willing to link arms and partner with the city for the greater good. Too often churches separate themselves from the world or seek to battle the world. I think we are called to love the world as God loved the world. That involves getting up close and personal.
PLM: I recall having the privilege to co-host two New Wine, New Wineskins forums with you at your church for Multnomah Biblical Seminary's Science for Seminaries grant through AAAS/ATS/Templeton. One of those forums focused on mental illness. Not only do you have a passion as a pastor to engage faith and science, but also emotional and mental struggles that the Christian community and surrounding community endure. What has moved you to engage the faith and science discussion and the issues surrounding mental illness?
JR: The gospel is good news for all. Too often the gospel is good news for some. The church as the body of Christ has a mandate to break down barriers for those who are excluded from hearing good news. Two groups of people who are often left on the margins of church community are those who have emotional and mental struggles and those with a scientific worldview. There is no reason that the gospel is not good news to either group. There is no reason people who identity with these characterizations cannot also be devoted followers of Jesus. Fear, misunderstanding, and stigmatism have created false barriers that need to be torn down.
PLM: What are some ways pastorally that you seek to address the faith and science discussion and topics pertaining to mental illness?
JR: The false dichotomy that someone cannot be a person of faith and person of science has largely ruled the church world and the scientific world for most of my life. It has created prejudice, misunderstanding, fear and a divide that need not exist. The church fathers believed that there were two primary forms of divine revelation – Scripture and creation. They both reveal and point to the same God. Followers of Jesus and people of faith should not fear science, they should embrace it as a significant revelation of God (Romans 1). Many of the most prominent early scientists were people of faith. People of science should be more open to faith. Science is a set field that has boundaries and limitations. It is meant to address "how" questions but is inadequate to address "why" questions. Sadly, one of the key barriers to the organic partnership of science and faith is a misunderstanding of Scripture, particularly the early chapters of Genesis. We continually endeavor to clarify misconceptions and teach the early chapters of Genesis and other relevant passages in a way they have been taught historically. This often leads to followers of Jesus approaching science with new respect and people of science giving the way of Jesus and Scripture another look.
I had the opportunity in Madison to get to know many accomplished scientists who were also passionate followers of Jesus and lovers of God's word. This fear of science and misunderstanding of Scripture has also led to many followers of Jesus abandoning the care of creation. Caring for our earth is one of our primary callings as those made in the image of God. I am hopeful that followers of Jesus will soon take a lead in stewarding and caring for God's creation. We teach on creation care and also landed a grant to build a community garden on our land.
Churches have typically done a poor job serving the needs of those struggling with mental illness. People with mental illness are sometimes stigmatized by churches. This is partially due to bad teaching that suggests mental illness is caused by sin. Certainly, some of our emotional struggles are caused by sin but the majority of mental illness has others factors at play. Churches seem to spend the majority of their time focusing on the spiritual side of things while ignoring the physical and emotional aspects of being human. Scripture doesn't seem to make that division. When churches and pastors do begin to address mental illness they often get out over their skis by attempting to care for people while not having the training or expertise to do so. We try to preach often on these things and have started to offer a regular class called Emotionally Healthy Spirituality. We have also spent considerable time building a list of recommended resources for those struggling with mental illness. There are many wonderful counselors, clinicians and organizations in the city that we can partner with for the greater health of those in our church.
PLM: New Wine, New Wineskins is hosting a conference on disabilities on March 16th, 2019 titled "From Isolation to Invitation: A Conference on Disabilities." What are ways that New Hope seeks to demonstrate sensitivity and pastoral care for people struggling with disabilities? 
JR: It is abundantly clear from Scripture that God's heart pounds for those who are most vulnerable. This is evident in the law God gave Israel, in the rebukes and challenges of the prophets and in the teaching and actions of Jesus. 1st century Judaism considered disabilities to be a sign of sin. Jesus vigorously disagreed with this assumption and spent a considerable part of his ministry healing those with disabilities who had been discarded by society and denied worship in the synagogue. The early church seemed to understand the priority of caring for the most vulnerable as they routinely fed the poor, cared for plague victims, rescued babies, and built hospitals. Our disabled brothers and sisters are certainly the vulnerable in our midst as they are forced to rely on God and others to do life. For that reason, I believe they are also key contributors to our church. We endeavor to see those with disabilities as dearly loved children of God who are a significant part of our community. I have found those with disabilities to have a deeper and more profound faith than those who have never had to experience such limitations. It is important to make sure we are offering people with disabilities the access and resource they need to do life and pursue faith. It is equally important that we give them opportunity to serve others and share the things they have learned through their struggle. One my favorite people at our church is a wheelchair bound, non-verbal man named Toby. While he cannot talk he clearly communicates his unbridled joy and his deep understanding of God's love and grace. Toby regularly cries out at the exact right moments during worship and teaching. I have no doubt those exclamations are prompted by the Spirit. We have much to learn from our disabled friends.
PLM: In your ongoing work as a pastor at New Hope, what do you hope God will continue to do in and through your faith community, including in the surrounding culture?
JR: There seems to be a ton of fear in faith communities about the secularization of culture. It seems to be prompting isolation and a defensive posture. I have never been more excited to follow Jesus and be part of a faith community. A brief survey of history shows that the church has been most vibrant when it has been in the minority and most unhealthy when it has been in power. As we enter a post-Christian age I believe we have tremendous opportunity to bring life and light to a dark and dying world. We do not need to fear. Perfect love has cast out fear.
PLM: What closing thoughts would you wish to share with our readers?
JR: Studies show that people are abandoning church. Undoubtedly church leaders, including myself, need to prayerfully seek reform. But abandoning church is not the answer. The church is the body of Christ. As the body of Christ, the church is the hope of the world. There is no Plan B. Instead of abandoning church I would encourage people to find a church and be the change they want to see. Help heal the church instead of kicking it to the curb. Despite its many flaws and blemishes the church is beautiful and cherished by Jesus. We are his bride. He has promised that the gates of hell will not prevail against his church as he has already secured our victory. Our call is to be a faithful presence, a city on a hill, those living in active anticipation of the Kingdom that has come and is coming. Come, Lord Jesus.